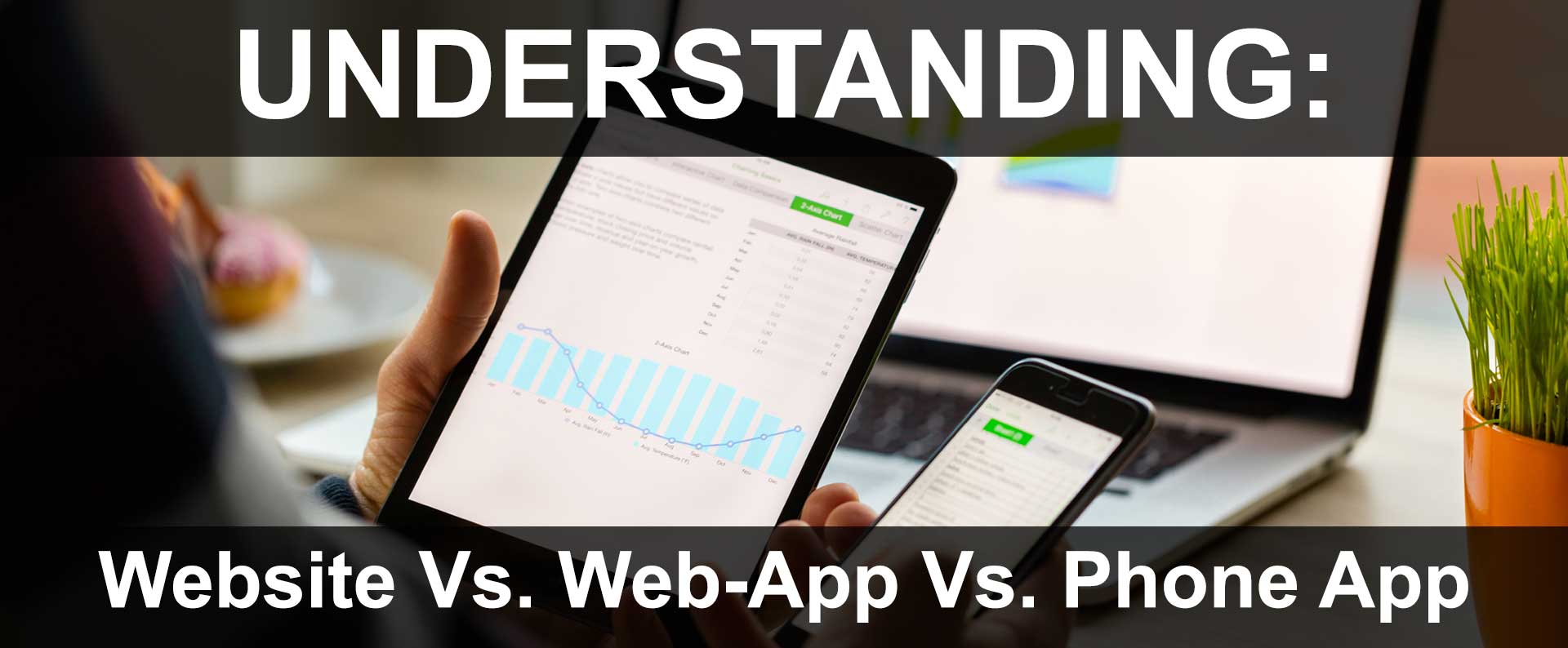 Featured Article
Website Vs. Web-Application Vs. Phone App
Understanding Web 1.0 - 5.0 vs. App Technology & What It Means To You
Revised July 17, 2019
Originally Published October 14, 2008
People often ask what the difference is between a website, a web application, and an App for smart phones. While some may use the terms interchangeably, due to changes in technology, there are distinct differences, and potential advantages & disadvantages to note for each.
The Definition of a Website (The Beginning of Web 1.0)
The term website is often used generically and loosely to describe any place on the internet in which visitors can connect and navigate web pages containing data, text, images, audio, video, and other media through hyperlinks.
A website can be a static site (that only allows visitors to read and view information, images, and other content) known as Web 1.0 technology.


Or a website can be dynamic, (in that it allows a visitor to interact with the website and data, literally affecting the website output) known as Web 2.0 technology.
Historically, a website, (or Web 1.0 Technology) lacks dynamic user interaction, and only allows for viewing of information posted by a website owner; or sending of information via forms. This vastly describes how websites were used from the mid-1990's through early 2000.
However, with the advent of new technologies, websites on the internet today are now using what is often referred to as Web 2.0 Technology. This new use of website technology allows for:
Interactive information sharing as seen with social network sites such as Instagram, Twitter, Facebook, etc.


Interactive member and e-commerce related functionalities such as PayPal, Amazon, Ebay, etc.
Many of these interactive websites are often considered "website applications".
Defining a Web Application (Growing Into Web 2.0)
A web application (also often referred to as a website), is in fact a web-based "software program" that resides on a server computer connected to the internet, (rather than residing on a home/office computer like most traditional software programs).
Since the early 2000's, website applications have become as powerful as traditional software applications made for a home or business computer, yet are often more flexible and dynamic.
Because web applications are developed for the internet, and use some of the latest Web 2.0 Technology, these advanced websites allow users to perform tasks that could never be performed on a traditional software application using a home/office computer.
A perfect example of a major company taking advantage of Web 2.0 Technology and web applications is Intuit, the makers of QuickBooks and TurboTax. Many are familiar with QuickBooks and TurboTax as a traditional software program that can be purchased at the store, and then install on a home/office computer.
Using Web 2.0 Technologies, Intuit took TurboTax, Quicken, and QuickBooks to the next level, and made accounting, tax preparation, and filing entirely web-based. The software to run Intuit's new programs are installed on Intuit's server computers, rather than the user's personal home computer.
This means the consumer no longer has to purchase the software to install on their computer. Instead, by simply going to TurboTax's website where one can login to Intuit's web-based TurboTax program, and use TurboTax on the web from any computer with Internet access!
Web Applications & Day-to-Day Business (A Web of Data Processed By Machines Web 3.0)
As we've seen over the past 15 years, the advent of Web 2.0 Technologies, and the creation of web applications has had tremendous impact on all business, consumer, and retail markets. Today's technologies allow for consumer and business interactions that were once considered impossible to be implemented by even the smallest of businesses.
Web applications are being used to manage every aspect of business and communication. From managing website content using a CMS (Content Management System), to managing customer records and notes online using a CRM (Customer Records Management System), to managing orders, deliveries, and more using a customized online e-commerce shopping cart.
For an investment similar to that of many single PC-centric software programs, a custom web application can be developed to fit most any specific company's business needs to manage data.
As well, because a web application is fluid and web-based, one can constantly modify and change the web application as the business needs change.
Web 3.0 (known as the Semantic Web) is the culmination of all the above knowledge; the ability for machines to manage and process the data gathered from the Web 2.0 technologies.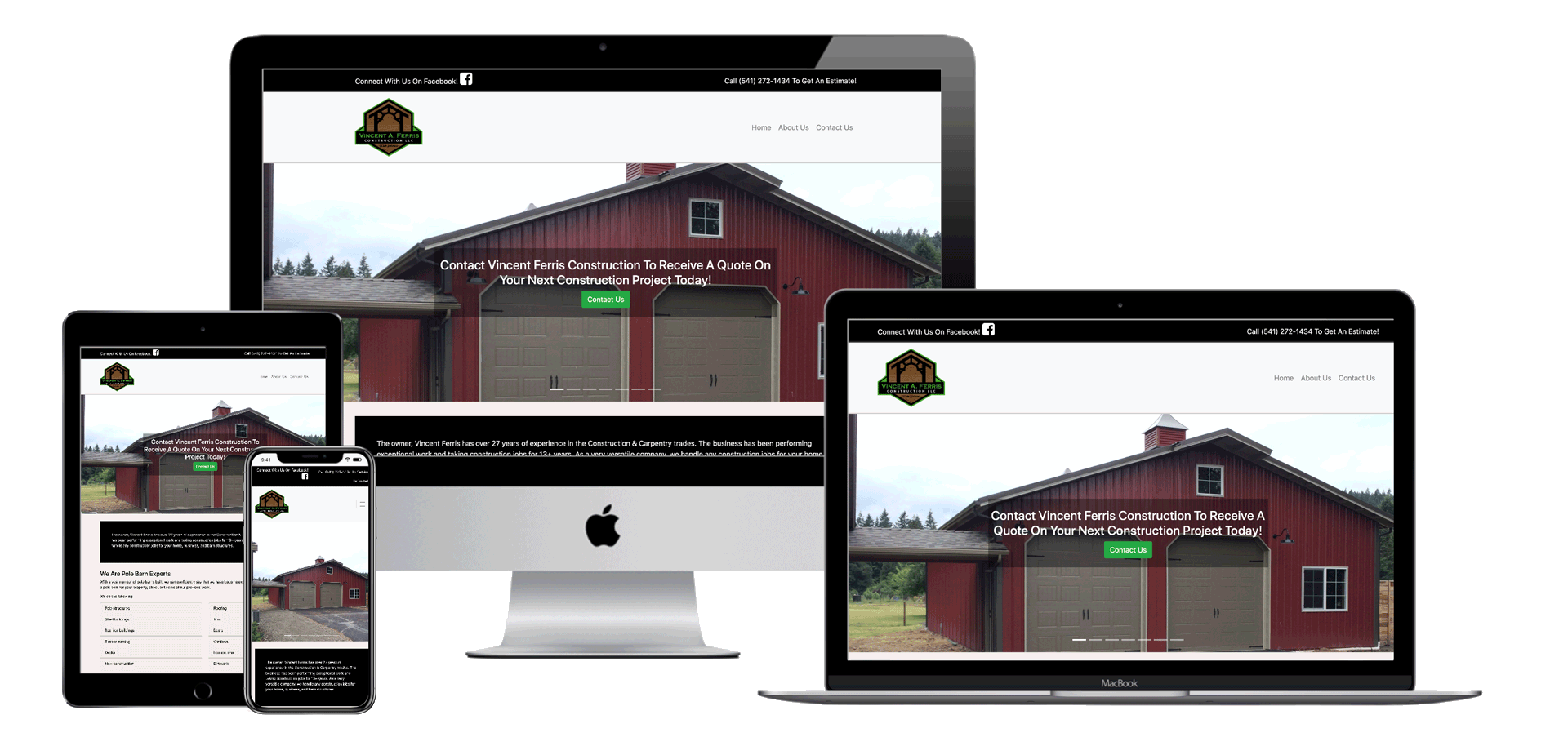 Featured Case Study
Mesa Fresca Latin & American Kitchen Case Study
Mesa Fresca Latin & American Kitchen is a Historic Downtown Oregon City, Oregon-based restaurant with dishes inspired from culinary traditions of Mexico, Peru, and other Latin American countries.
Mesa Fresca Latin & American Kitchen required a secure, yet professional website solution to showcase their menu of food and Latin America inspired dishes; as well they desired on-going update assistance, as needed.
Website Update
With this in mind, we built Mesa Fresca Latin & American Kitchen's website using our clean code, SEO-Friendly, Responsive & Mobile-Friendly Content Management System (CMS) website solution.
You can learn more by clicking below:

Quick Tidbits
Designing Websites for the Way People Live
In today's world, most every successful business has a website presence. Due to the growth of internet usage on smartphones, tablets, and other mobile devices, it is even more imperative than ever to minimize the utilization of non-compatible medias and technologies.
Some of the following are the most important factors to consider when attempting to make sure your website is compatible with any platform whether it be multiple browsers, a cell phone, tablet, or other mobile device:
Mobile-Friendly & Responsive
Google states that over 80% of all searches are on mobile devices. Make sure the website is completely mobile-friendly and responds to any screen size.


Flash (Avoid)
Flash can be a useful tool in the right situation but is not supported by many cell phones and mobile devices (especially the over 1 Billion iPhones and other mobile Apple devices). Today, HTML 5 is the better choice for cross-platform programming.


Javascripts (Be Weary)
Javascripts often break down into plain text and loose many dynamic functions (such as hiding text until such time as a visitor hovers over) on cell phones and many mobile devices.


Large Images
Large images with huge download times are a major reason many visitors leave or abandon a page. Keep images responsive and optimized for the web for quick download times.


Simple Navigation
Quick and easy to decipher navigation. A visitor normally should not have to search through more about three links to find what they want on a website.


Simple Design
Using CSS (Cascading Style Sheets) can make a great looking website that is quick and easily to download; while allowing for responsive site-wide design changes from one style location.
The above guides should be followed on a general basis as there will always be certain exceptions to the rule.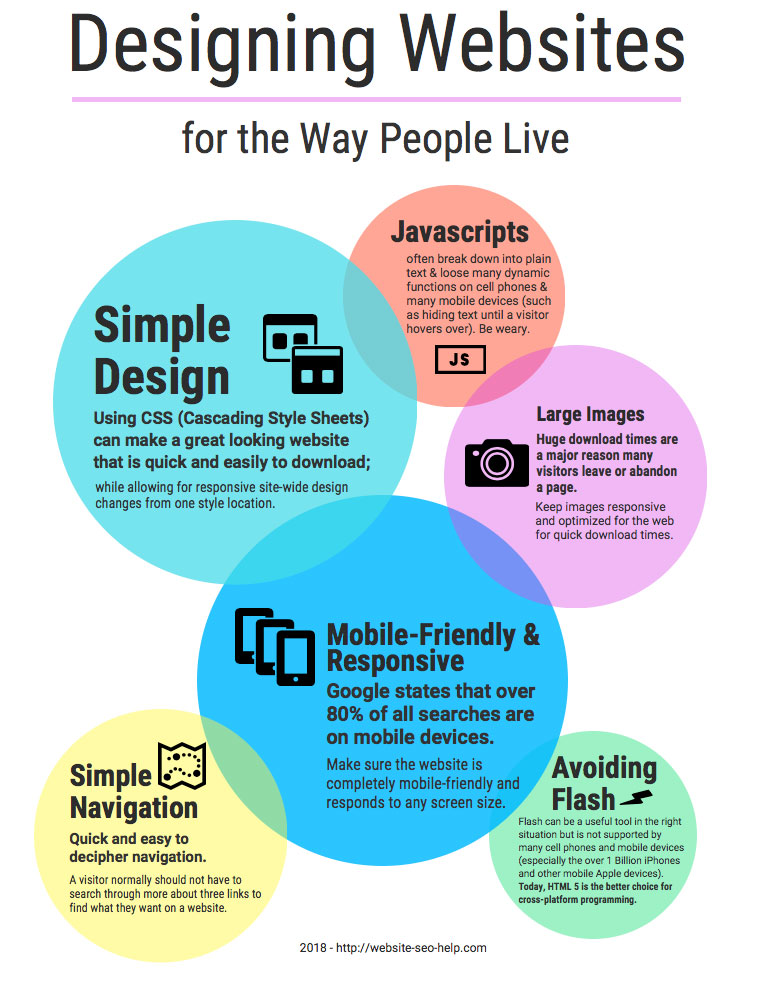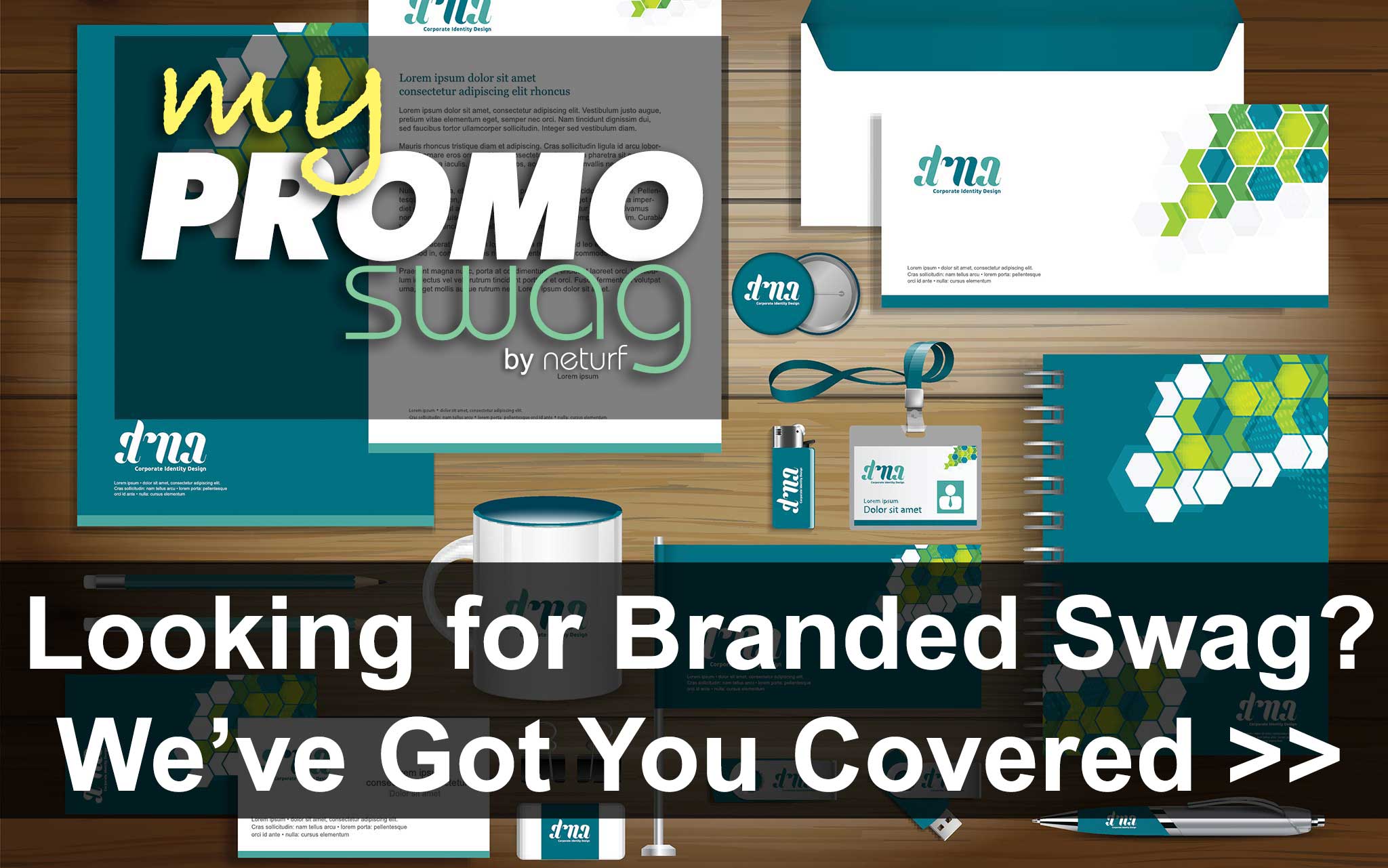 Goodies & Freebies Featured Solution
AVG Anti-Virus - Free Virus Protection Software
Antivirus and antispyware protection for Windows available to download for free. NEW! LinkScanner® Active Surf-Shield checks web pages for threats at the only time that matters - when you're about to click that link. Learn More.
Newsletter Archive Topics
Newsletter Article Ideas?
We want to hear about it! Our newsletter is geared towards you so email your article ideas or questions to news@ad-sol.com.
Newsletter Subscription Status
Follow Us
We Accept Credit, Checks & PayPal

Recommended Web Technologies
Recommended Integrated Solutions