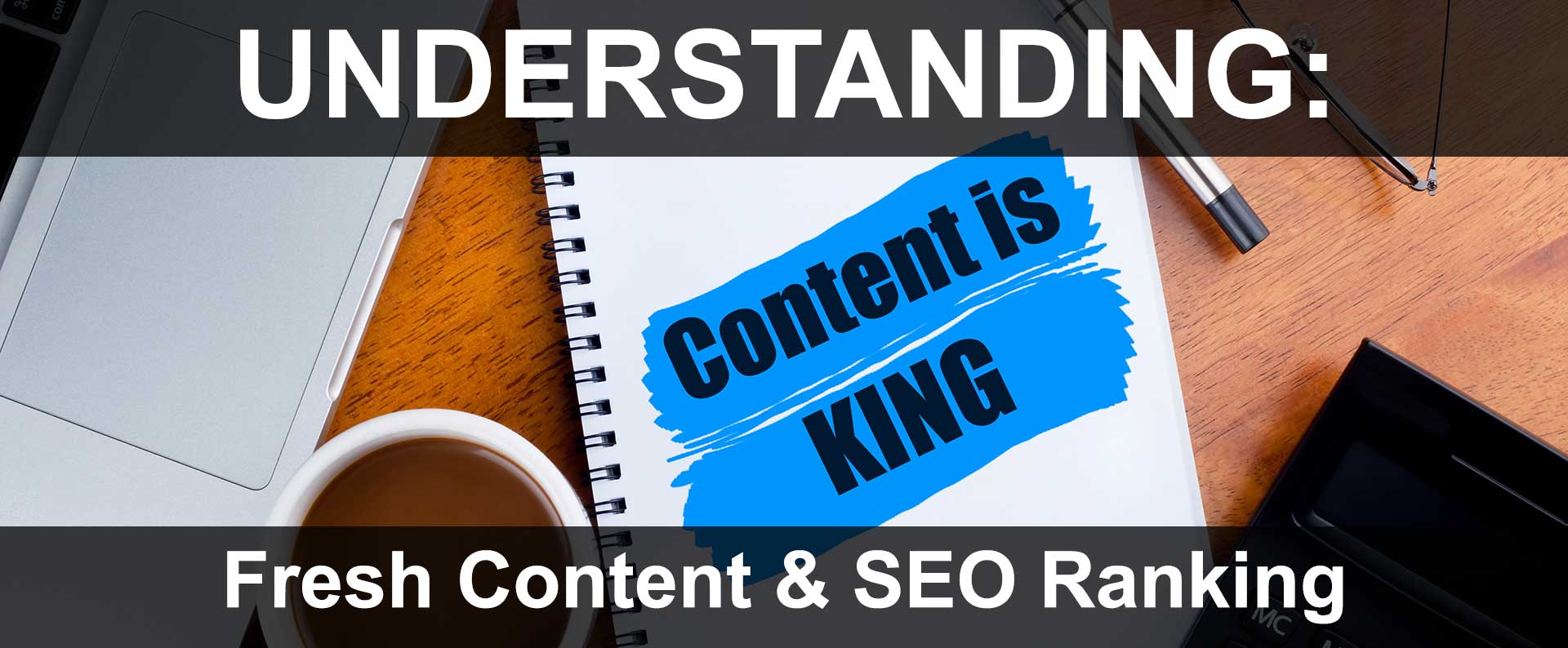 Featured Article
Fresh Content & SEO Ranking
The Importance of Regularly Updated Content for Better Ranking
Revised February 12, 2020
Originally Published February 21, 2008
All successful, profitable, popular, and best-practice SEO (search engine optimized) websites share a common habit:
The website content is updated on a regular basis with new, pertinent, relevant, or revised information.
Keeping content fresh is easy, does not require a complete overhaul, or even daily updates; yet the benefits are tremendous!
To be successful, it's important to offer new or revised information on a fairly regular basis; while keeping a familiar environment, and site navigation.
Benefits of Fresh Content
There are many benefits to updating website content on a regular basis, including, but not limited to:
Businesses that keep their website content fresh, and up-to-date will find overall:
Higher ranking in search engines (as sites with fresh content are often ranked higher than sites with old, stale information).
Fresh content helps to keep people engaged, and coming back regularly.
Regardless of industry, there will always be areas where website content can use updating and improvement.
The following are just a few basic ideas of website sections that can use regular revision:
Company & Industry Related News Updates

There are always new ideas, articles, trends, or updates to report:



Report the latest industry news, trends, legalities, or other industry changes

Articles related to the company, employees, or industry standards
Changes affecting the business, industry, or its consumers



Industry related updates can vary from simple, quick tips, blurbs (or blogs) about something new or different; to longer, more in-depth articles or reviews.


Daily or weekly social network updates on social medias such as Facebook, LinkedIn, Instagram, Twitter, and Alignable, ideally should link to the relevant information, news, or article on the company website.
Over time, an updated "news & resource section" of a website can become a gold-mine of information for search engines, customers, and prospects alike.
Case Study, Testimonial, Product & Service Content Updates

Add new case studies and testimonials regularly, to show off the latest work, as well as happy clients. (Case studies and testimonials can also significantly help with local search engine ranking.)


Keep product and service information up-to-date. If information regarding products or services change, then the website needs to be updated to reflect those changes immediately.


Keep customers informed of specials and seasonal sales or events. Often consumers will check back just to see the latest specials or events.


Regularly visit and review website pages to make sure the most effective content is being used. Revising overtime often allows for the evolution of more effective descriptions and content.


Revise for ease of reading; splitting up the content into easy to read paragraphs, with proper paragraph headers (titles), and bulleted or numbered lists of specifications is often considered best practice:

Featured Case Study
David Rodeback Architect LLC Case Study
David Rodeback Architect LLC is a full-service architectural firm based in Portland, Oregon with projects completed in Oregon, Washington, Colorado and Nevada. The firm's current focus is on office, single-family & multi-family residential, retail and mixed-use projects, though work experience has also included educational, government and healthcare projects.
David Rodeback Architect LLCrequired a rebuild of their old site in Wordpress that was no longer upgradeable. They wanted to keep the old look, yet required an affordable, and professional website solution; as well they desired on-going update assistance, as needed.
Website Update
Per their request we utilized the Wordpress platform to build David Rodeback Architect LLC's website using a custom Wordpress theme that's Responsive & Mobile-Friendly.
They utilized our Full-Service Advertising Packages, as this solution offers professional management of all web and online & offline marketing needs with unlimited future growth as their business grows and changes.
You can learn more by clicking below:

Quick Tidbits
Do You Have An Emergency Backup Plan?
In today's world, while there are numerous steps one can take to protect themselves online; there are only so many steps one can take to protect the company and it's data. Even the "safest" sites can still be infiltrated or become impaired due to failure.
With so much business done online susceptible to hackers, or just plain equipment malfunction, or failure; it's more essential than ever to make sure every business has an emergency backup plan in place.
Company Email:
Do you have a plan in place if someone's email downloads malware or a virus?
Are these steps readily noted so employees don't spread the virus to other employees, or worse yet, a client?
Company Network:
What if your company network were hacked and held for ransom?
Do you have steps and protocol in place?
Company Online Assets (website, social medias, etc):
How would you handle catastrophic failure of online assets?
Do you have multiple backups of data?
Are backups stored securely away from the asset being protected?
These are just a few of the scenarios that every business must address and prepare for. Hope for the best with proper security, but plan and prepare for the worst potential failure of company assets, and create a plan through the scenario.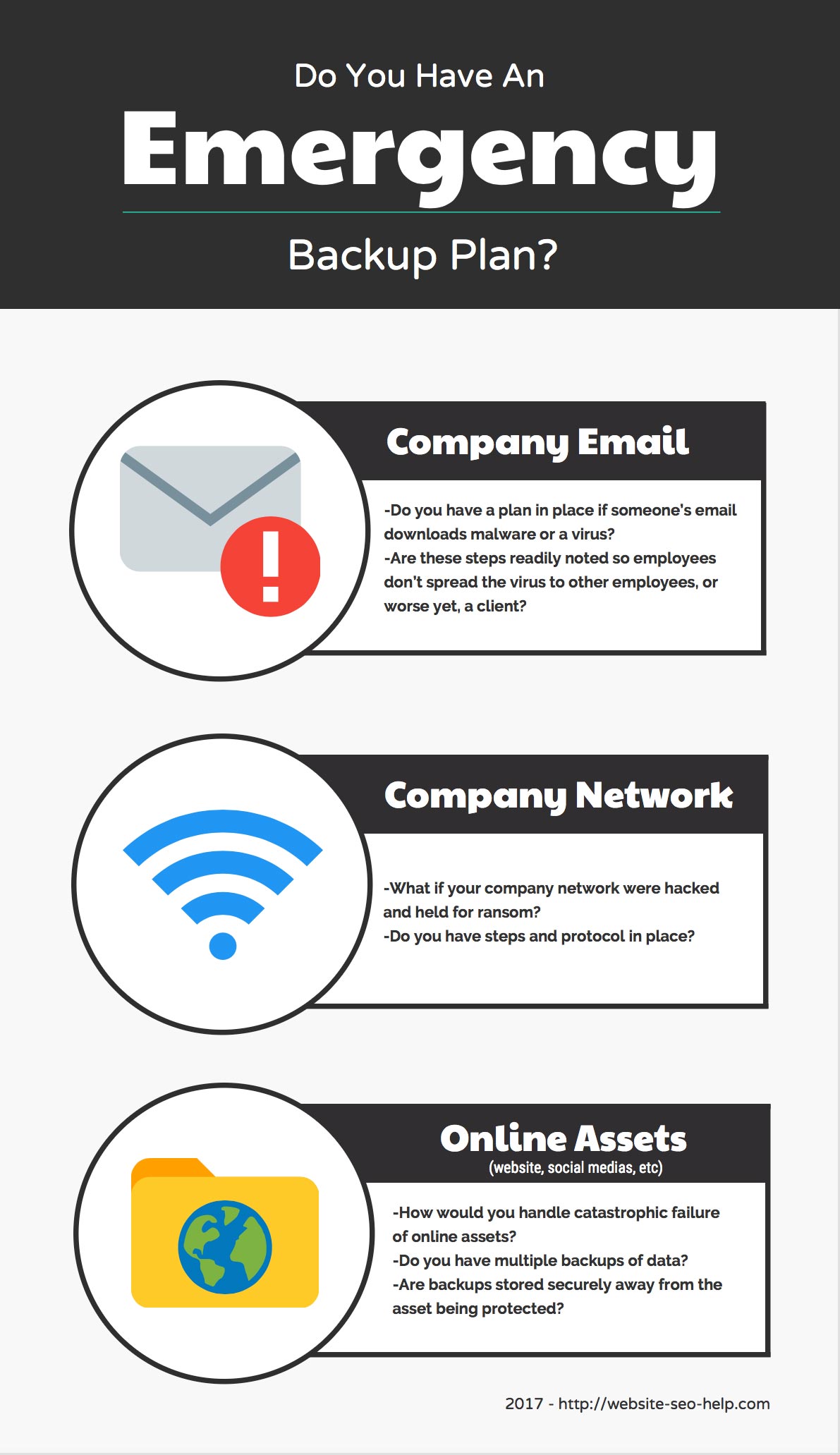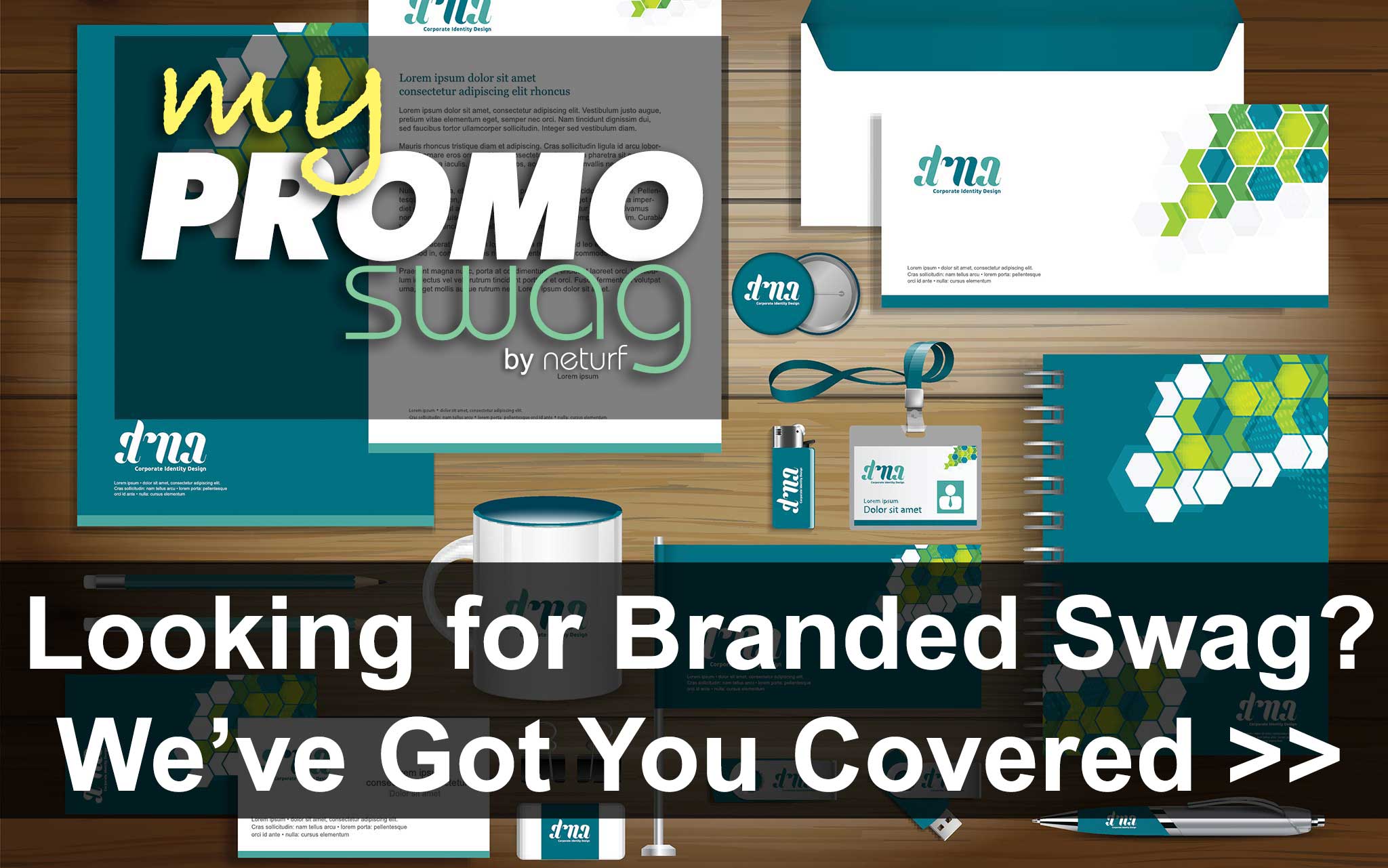 Goodies & Freebies Featured Solution
AVG Anti-Virus - Free Virus Protection Software
Antivirus and antispyware protection for Windows available to download for free. NEW! LinkScanner® Active Surf-Shield checks web pages for threats at the only time that matters - when you're about to click that link. Learn More.
Newsletter Archive Topics
Newsletter Article Ideas?
We want to hear about it! Our newsletter is geared towards you so email your article ideas or questions to news@ad-sol.com.
Newsletter Subscription Status
Follow Us
We Accept Credit, Checks & PayPal

Recommended Web Technologies
Recommended Integrated Solutions