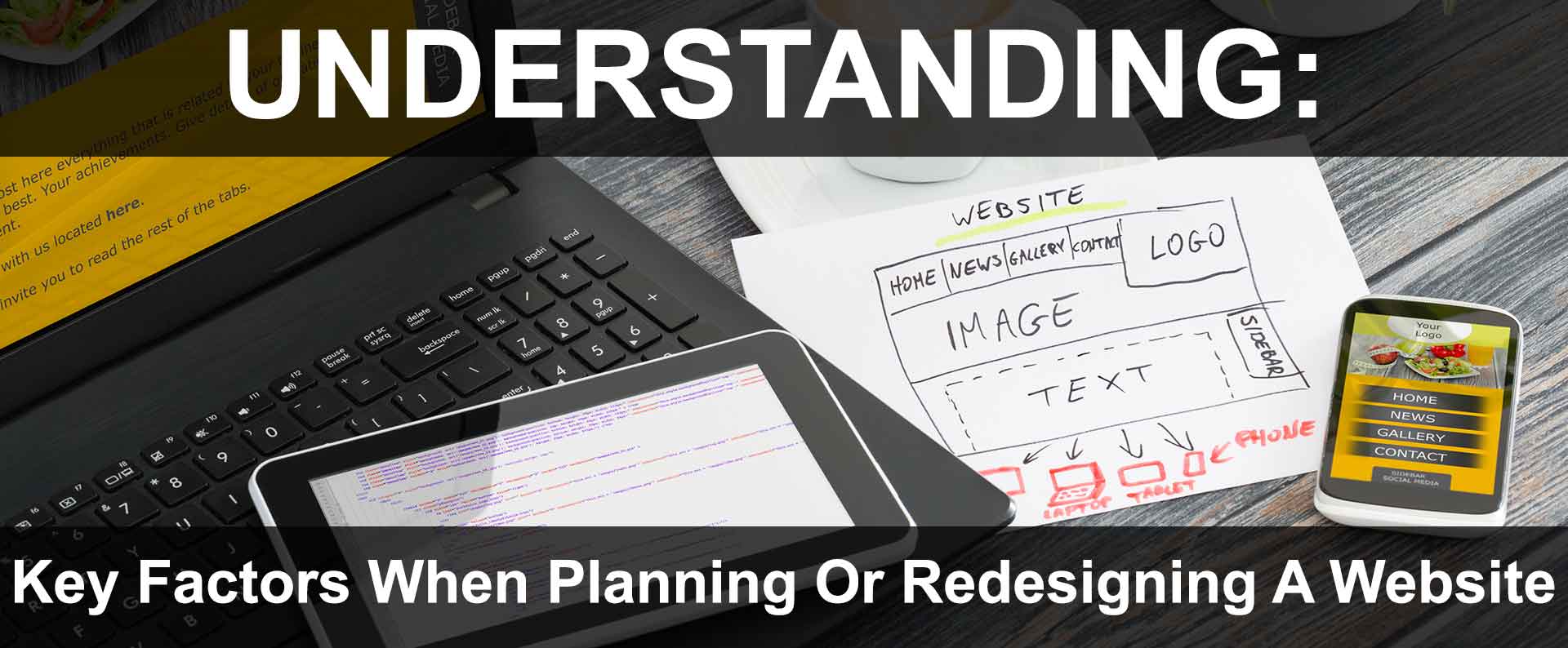 Featured Article
Key Web Design & Development Tips
Important Factors When Planning Or Redesigning A Website
Revised August 6, 2020
Originally Published June 17, 2010
Whether creating a new website, redesigning, or updating an existing site or web application (webapp); a different set of tactics must be implemented versus those used for traditional offline print mediums such as a newspapers, books, or magazines.
There are numerous factors to be taken into consideration to make a site or webapp as effective as possible.
For this reason, it is important to note some general tips to adhere when planning a new web presence, redesigning, or updating an existing site or webapp.
General Design Tips
Make sure the site's design & layout is mobile-friendly and appears consistent and accurate on all devices (smartphones, tablets, desktops, etc.) for ease of use and consumer confidence.


Use one responsive site to avoid requiring users to visit a different website, or various navigation methods depending upon the device they are using.


Forget page counters, as they look messy and amateur. The website's hosting account statistics, in addition to Google Analytics, will be able to reveal a great deal more insight and usable data about website traffic and consumer behavior than a hit counter.


Flashing, scrolling or blinking text is often too distracting, and again looks amateur. If there is a need to draw attention, it can done with a professional graphic image, or using bold-stylized text.


Keep the website look and feel consistent throughout all the web pages; this is a main key to making a website look professional.


Keep the site's navigation consistent and in the same place. Visitors are often frustrated and leave websites where the navigation menu constantly moves and changes.


Don't use irregular navigation. For the most part, people are used to (and expect) top, right or left hand navigation menus. Non-standard navigation setups can cause confusion and cause the visitor to leave the website when they can't easily find where to go next.


Attempt to keep website pages around 100k maximum in size. This keeps the website loading fast regardless of browser (Safari, Firefox, Chrome, IE, etc), connection speed (high-speed cable, WiFi, cellular), or computer platform (e.g. smart phone, laptop, tablet, etc).


Don't use busy backgrounds. The goal is to focus the visitor's attention on the content (business information, services, products, etc), not the background of the website.


Avoid using ALL CAPS as this too can be distracting. As well, in the online world this is considered "yelling" at the reader.


Avoid using italics or bolding on anything more than a few words at a time to draw attention. Anything more is distracting, and the italic or bold loses it effectiveness.


Keep the website color scheme simple. Too many bold colors, or too much design can be distracting or offensive.


When using images as buttons or links, make sure they look like they should be a link or button. Make links obvious to navigate the site.
Website Function Tips
Flash should be avoided when possible as it is not 100% cross platform compatible, and is no longer mainstream. As well, many users have disabled Flash plug-ins, not yet installed, or their browser may no longer support Flash.


Many of the same features found in Flash and similar technologies can be found by utilizing HTML5; which is cross-browser compatible on all platforms including iPhone and iPads. As many may know, Flash does not work on iPhone, iPads, etc.


Keep away from frame-sets. Frame-sets can often cause many issues with browsers and search engines. Overall, frame-sets are not friendly for search engines, or mobile-browsers.


Keep away from using background music on a website page. Not only are music files often large and take time to download, but no one likes going to a website and suddenly being startled by music playing unexpectedly.


Avoid using pop-up windows. Lots of browsers have pop-ups disabled due to spam pop-ups. Often visitors find pop-ups annoying.


Avoid automatically resizing visitors browser windows. Instead, either make the website fluid and respond automatically to the visitor's window size.


Make sure the website has custom 404 error pages setup should someone encounter an error on the website; this tells a user the content is no longer available, and can direct them onward to find the desired information they came for.


Make sure the website can be viewed on all browsers, including smart phones and tablet-computer browsers; such as iPhone and Android phones.


Avoid chat rooms and message boards UNLESS the website has a very large base of visitors. Nothing looks worse than an empty chat room or bulletin board.


Avoid javascript heavy websites. Javascript is okay to use sparingly as absolutely needed; but in general, javascript should be avoided as it is not always 100% cross browser compatible, and many people have javascript turned off. Some browsers on smartphones may not display javascript. If Javascript must be used, make sure the site offers alternative content for non-javascript enabled browsers and devices.
Search Engine Ranking & Optimization Tips

Featured Case Study
Pacific Northwest Section - AIHA Case Study
Pacific Northwest Section - AIHA is a regional section of the American Industrial Hygiene Association (AIHA). The AIHA is a professional society of persons dedicated to the prevention of workplace-related illness or injury that may affect the health or well-being of workers or the community. AIHA is the largest international association serving the needs of occupational and environmental health professionals practicing industrial hygiene in industry, government, labor, academic institutions, and independent organizations.
Pacific Northwest Section - AIHA required a secure, yet professional website solution to manage members, conference registrations, online payments, and more; as well they desired on-going update assistance, as needed.
Website Update
With this in mind, we built Pacific Northwest Section - AIHA's website using our clean code, SEO-Friendly, Responsive & Mobile-Friendly Ready-to-Tailor eCommerce Website Base-Code Engines with Content Management System (CMS).
They utilized our Full-Service Advertising Packages, as this solution offers professional management of all web and online & offline marketing needs with unlimited future growth as their business grows and changes.
You can learn more by clicking below:

Quick Tidbits
Do You Have An Emergency Backup Plan?
In today's world, while there are numerous steps one can take to protect themselves online; there are only so many steps one can take to protect the company and it's data. Even the "safest" sites can still be infiltrated or become impaired due to failure.
With so much business done online susceptible to hackers, or just plain equipment malfunction, or failure; it's more essential than ever to make sure every business has an emergency backup plan in place.
Company Email:
Do you have a plan in place if someone's email downloads malware or a virus?
Are these steps readily noted so employees don't spread the virus to other employees, or worse yet, a client?
Company Network:
What if your company network were hacked and held for ransom?
Do you have steps and protocol in place?
Company Online Assets (website, social medias, etc):
How would you handle catastrophic failure of online assets?
Do you have multiple backups of data?
Are backups stored securely away from the asset being protected?
These are just a few of the scenarios that every business must address and prepare for. Hope for the best with proper security, but plan and prepare for the worst potential failure of company assets, and create a plan through the scenario.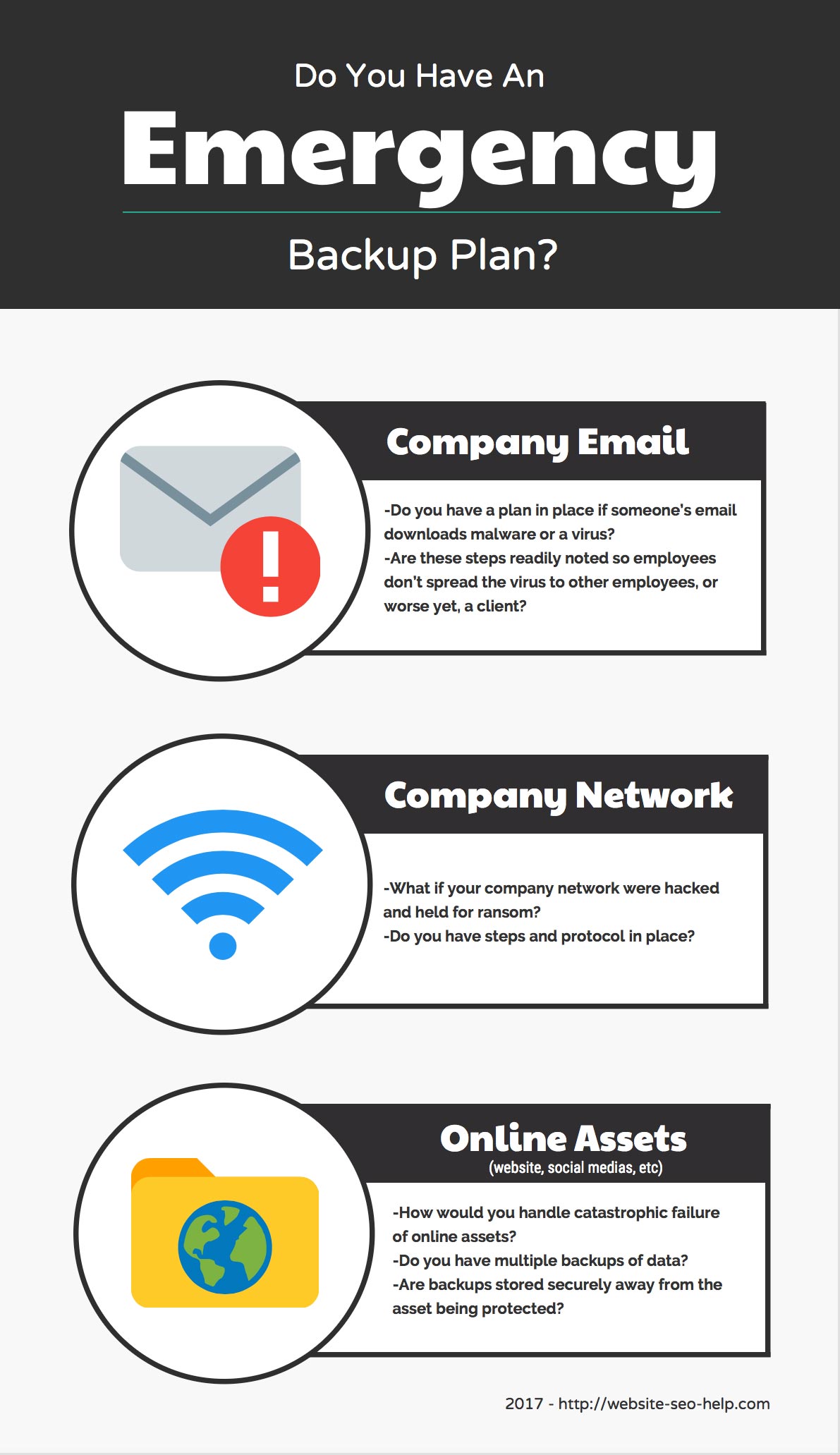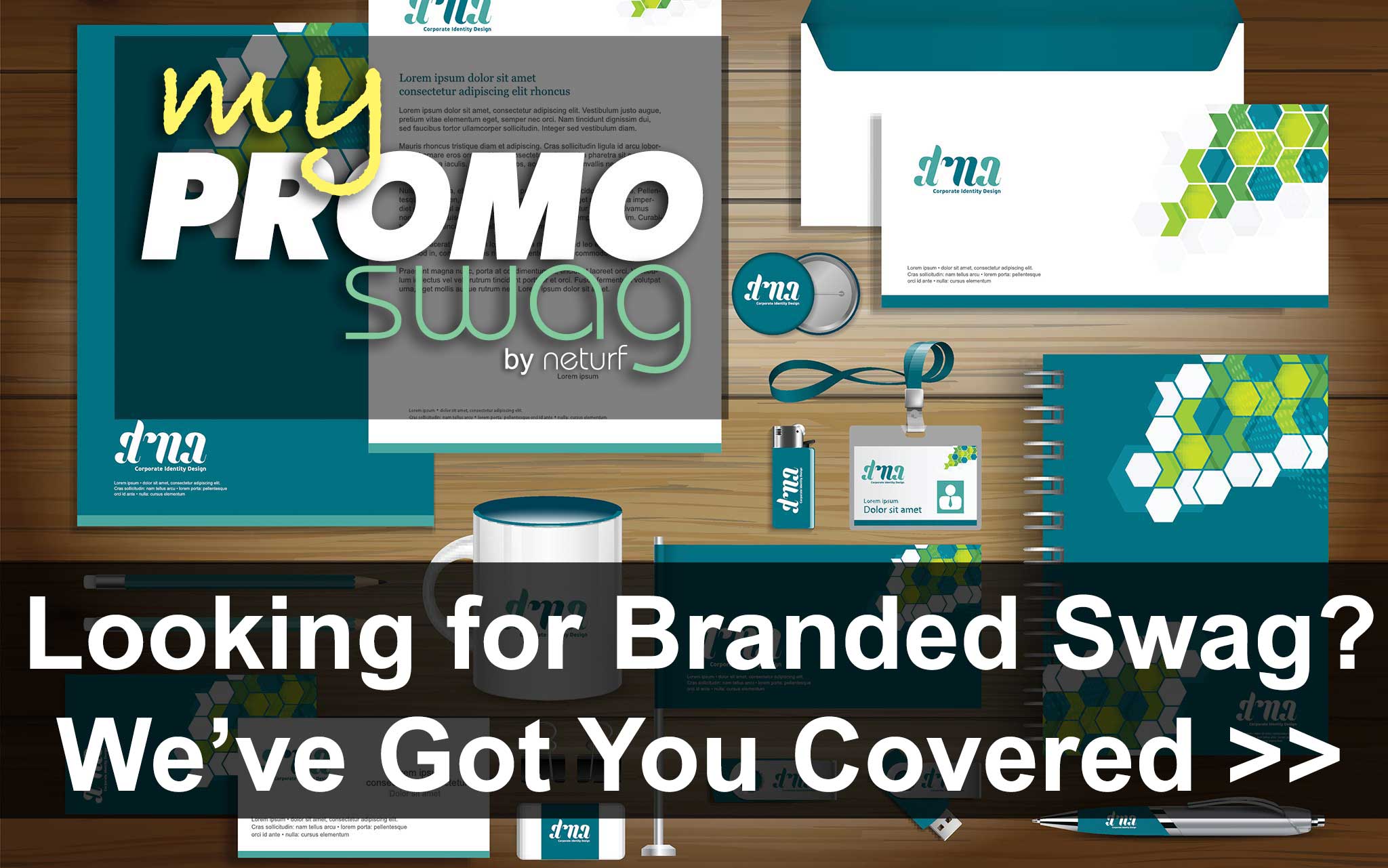 Goodies & Freebies Featured Solution
AVG Anti-Virus - Free Virus Protection Software
Antivirus and antispyware protection for Windows available to download for free. NEW! LinkScanner® Active Surf-Shield checks web pages for threats at the only time that matters - when you're about to click that link. Learn More.
Newsletter Archive Topics
Newsletter Article Ideas?
We want to hear about it! Our newsletter is geared towards you so email your article ideas or questions to news@ad-sol.com.
Newsletter Subscription Status
Follow Us
We Accept Credit, Checks & PayPal

Recommended Web Technologies
Recommended Integrated Solutions