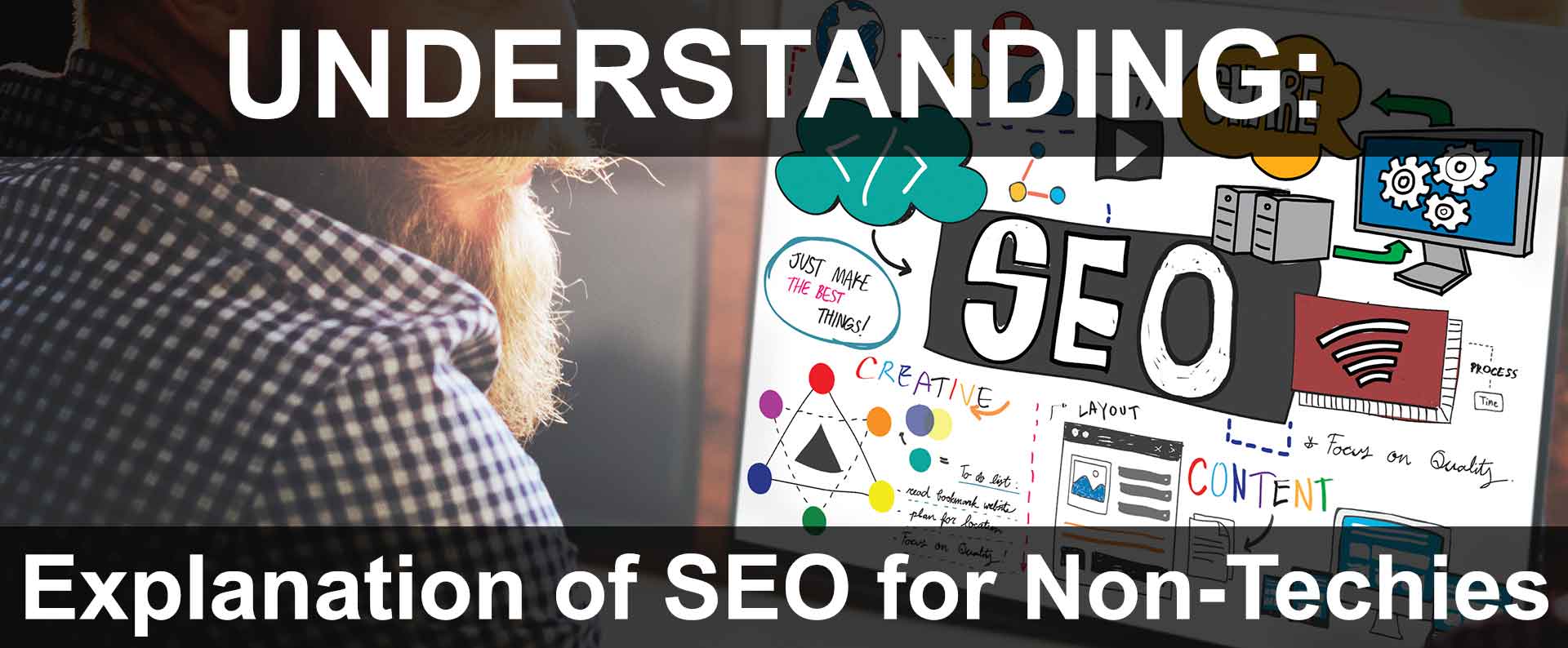 Featured Article
Search Engine Optimization (SEO)
An Explanation of Search Engine Optimization for the Non-Techie
Revised May 23, 2019
Originally Published May 21, 2008
The goal of this article is to explain in non-technical terms Search Engine Optimization (SEO), and why it is important to the online success of a company's website.
In addition, this article will summarize some basic principles to adhere when it comes to a website's SEO.
A Basic Understanding of SEO
Search Engine Optimization (SEO) is rather basic at its core:
Make sure a website is setup to receive top listing in results on search engines, such as on Google.
When a potential customer performs a search on Google, the goal is to have the site come up as close to the top of the search results as possible; most preferably as the "natural/organic" (non-paid) first place result, but at the least within the first page of results.
The closer a website places in the top ten search results, the better odds that site receives relevant traffic to the website.
There's a misconception by many business owners, that SEO is complex, requires special assistance, and should cost a lot of money.
The truth is SEO is simple, and most people can do most of it without extraordinarily expensive assistance; it just takes time.
The following are some tenants to basic SEO:
Clean & Responsive Code:

When building the initial website, a web development firm should create clean website code; following the basic principles of good programming. Website coding should be tidy, and as concise as possible.

In addition, as of 2015, Google required websites to be mobile-friendly. Google is going one step further in 2018 with requirements to be fully responsive for best practice, in addition to clean code.


Descriptive Content:

Be descriptive with the website content and text. When creating website content (marketing text) use words that actually describe the service or product in detail.

Avoid using "it" or "that" or other nondescript words. The goal is two-fold:

a. make the reader visualize a product or service using descriptive words and phrases (the text of a website must paint a picture),
b. AND have search engines index these keywords and phrases for search ranking purposes.

Graphics and images are excellent to use for visual purposes. However, at this time, most search engines cannot fully read or understand what an image is portraying.

Instead, search engines rely on ALT tags, and the text accompanying the image to provide a detailed description of any images on a website.


Properly Utilize Keywords & Phrases:

In order to be found for a "keyword" or "keyword phrase" in search results, that keyword (or related phrases) must exist in the content of the website.

If the keyword isn't in the site content, and related phrases aren't used throughout the website content; then that site most likely will not be found for that keyword or phrase in search results.



Search engines will not list a website in search results for a keyword or related-phrase, if that keyword or related-phrase is non-existent in the site content.


a. Extraneous code and unnecessary programming clutter the website code, making it unappealing to search engines.
b. Poor code may not always load on all browsers, in addition to making it difficult for future programmers to manage updates.

For example, a house for sale with lots of junk in the yard is not as likely to sell, as a home that is clean with a well-maintained yard.


Why Is SEO Important To Me?
Featured Case Study
Sealcoat in Oregon Case Study
Sealcoat in Oregon provides residential and commercial sealcoat contractor services throughout the state of Oregon to maintain, protect, and prolong the life of asphalt.
Sealcoat in Oregon required an affordable, yet professional website solution to generate sales leads and requests; as well they desired on-going update assistance, as needed.
Website Update
With this in mind, we built Sealcoat in Oregon's website using our clean code, SEO-Friendly, Responsive & Mobile-Friendly Content Management System (CMS) website solution.
You can learn more by clicking below:

Quick Tidbits
Designing Websites for the Way People Live
In today's world, most every successful business has a website presence. Due to the growth of internet usage on smartphones, tablets, and other mobile devices, it is even more imperative than ever to minimize the utilization of non-compatible medias and technologies.
Some of the following are the most important factors to consider when attempting to make sure your website is compatible with any platform whether it be multiple browsers, a cell phone, tablet, or other mobile device:
Mobile-Friendly & Responsive
Google states that over 80% of all searches are on mobile devices. Make sure the website is completely mobile-friendly and responds to any screen size.


Flash (Avoid)
Flash can be a useful tool in the right situation but is not supported by many cell phones and mobile devices (especially the over 1 Billion iPhones and other mobile Apple devices). Today, HTML 5 is the better choice for cross-platform programming.


Javascripts (Be Weary)
Javascripts often break down into plain text and loose many dynamic functions (such as hiding text until such time as a visitor hovers over) on cell phones and many mobile devices.


Large Images
Large images with huge download times are a major reason many visitors leave or abandon a page. Keep images responsive and optimized for the web for quick download times.


Simple Navigation
Quick and easy to decipher navigation. A visitor normally should not have to search through more about three links to find what they want on a website.


Simple Design
Using CSS (Cascading Style Sheets) can make a great looking website that is quick and easily to download; while allowing for responsive site-wide design changes from one style location.
The above guides should be followed on a general basis as there will always be certain exceptions to the rule.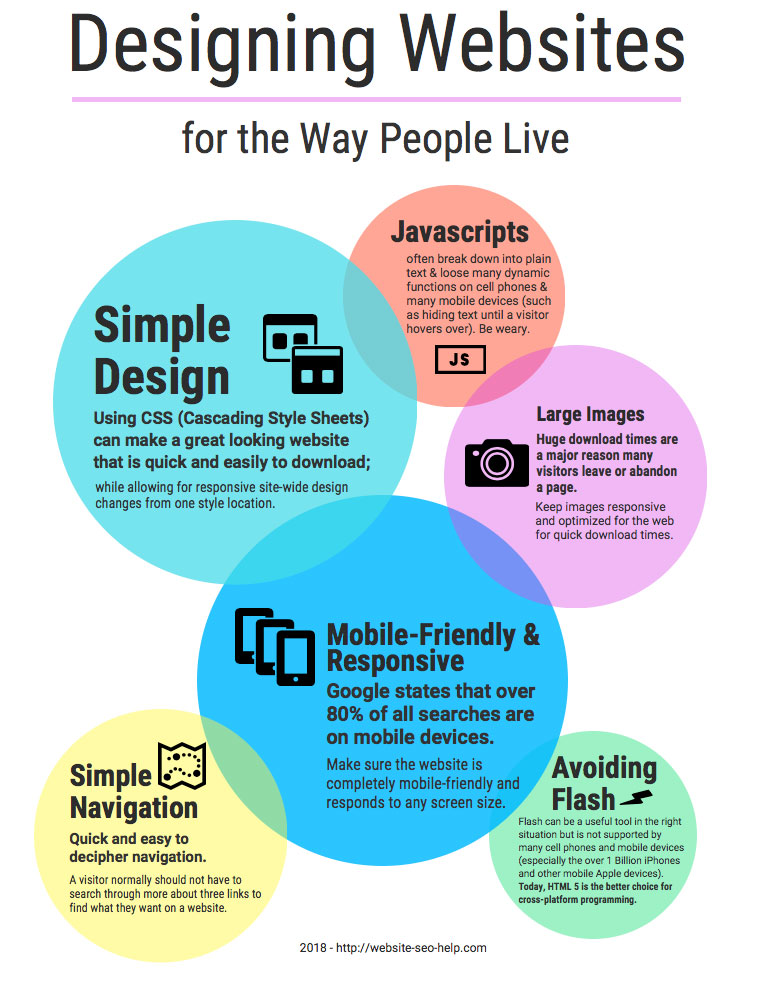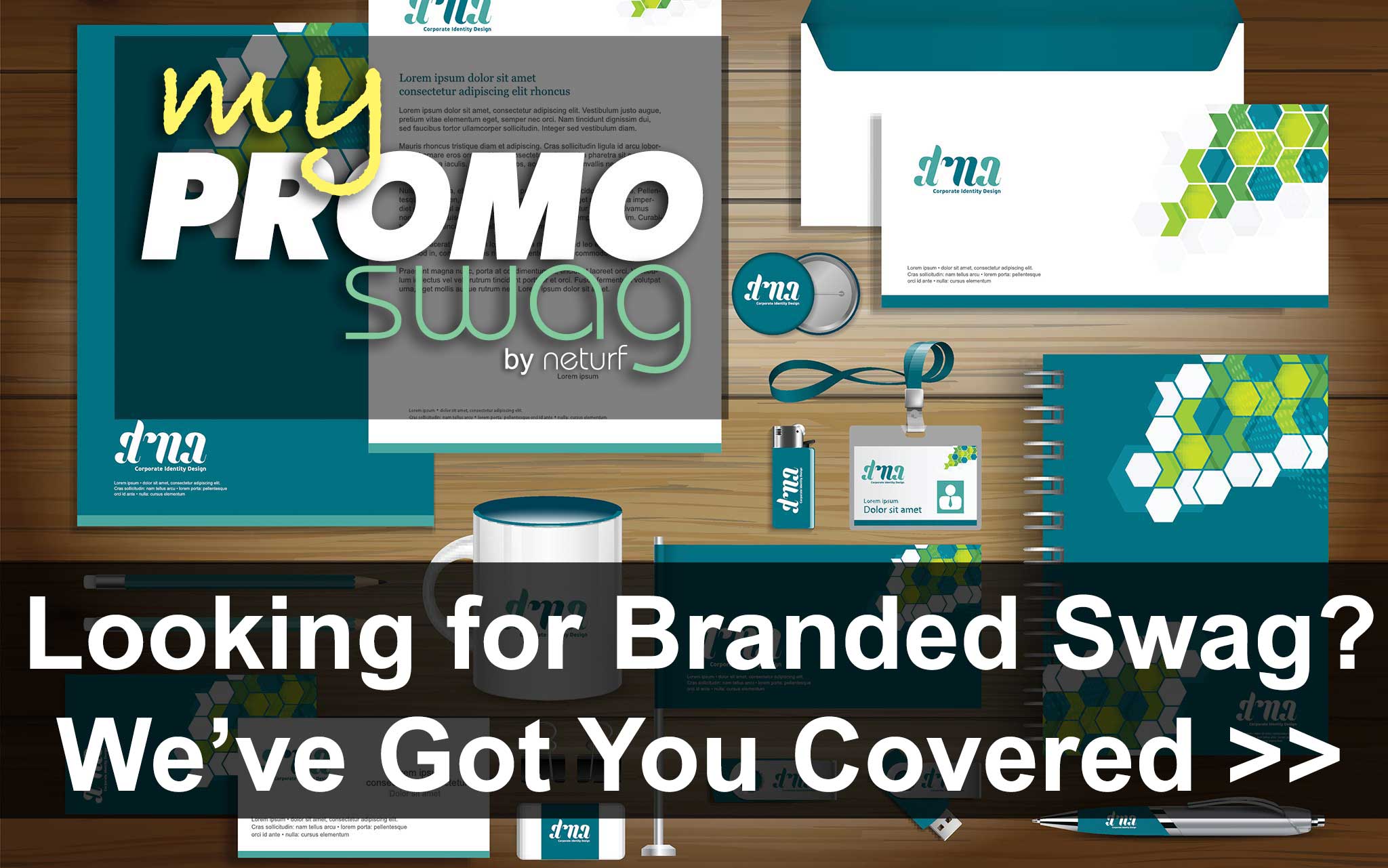 Goodies & Freebies Featured Solution
AVG Anti-Virus - Free Virus Protection Software
Antivirus and antispyware protection for Windows available to download for free. NEW! LinkScanner® Active Surf-Shield checks web pages for threats at the only time that matters - when you're about to click that link. Learn More.
Newsletter Archive Topics
Newsletter Article Ideas?
We want to hear about it! Our newsletter is geared towards you so email your article ideas or questions to news@ad-sol.com.
Newsletter Subscription Status
Follow Us
We Accept Credit, Checks & PayPal

Recommended Web Technologies
Recommended Integrated Solutions