While the traditional phonebook is all but dead, Google is basically redefining traditional directory assistance with Google My Business [GMB].  Have you claimed your free Google My Business listing yet?
Covering The Basics
Google My Business is a free listing in Google's directory of a business's information including:
Operating information
NAP (Name, Address, Phone)
Reviews
Posts
Products & Services
& so much more
Despite the majority of this information being found on a company's website, Google My Business indexes all this information and makes it readily available for quick consistent viewing by users across all its platforms including Google Search, Google Assistant (voice search) and Maps.
It's important to make sure that when someone is trying to find a business, that they can easily find the information in Google; this is best accomplished with a Google My Business (GMB) Card: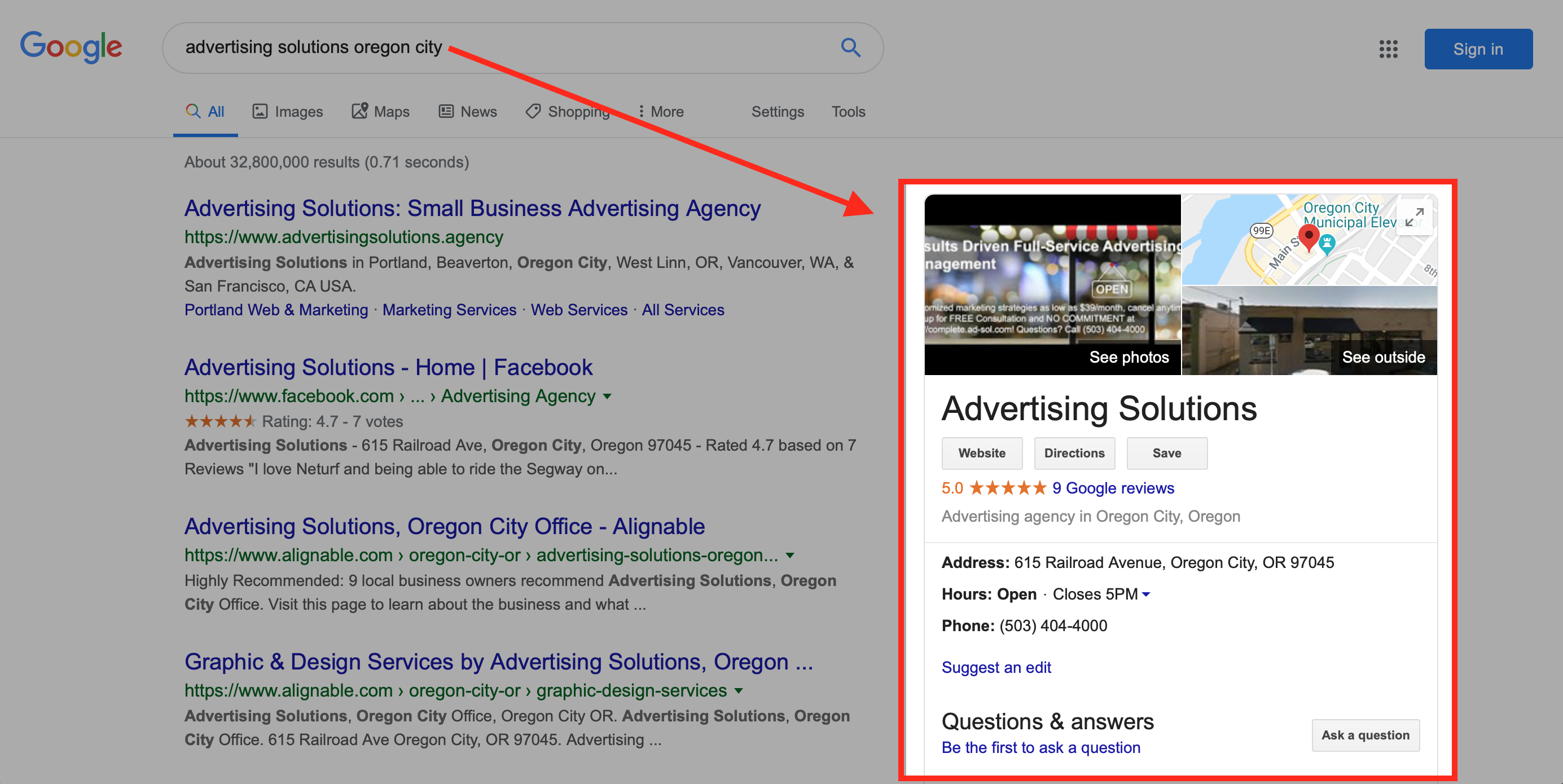 While many businesses may have claimed their free GMB, gone through the Verification process, and filled in the basics, most fail to take advantage of all their GMB offers.
GMB Can Be A Powerful Local SEO Tool
Google My Business isn't just a basic directory to find information about a business. When optimized and used correctly, a company's GMB can be a powerful tool that can help to increase a company's leads and sales, thus resulting in increased revenues.
Because Google owns the market on search (over 70%), it's imperative to make sure a company's GMB is properly optimized in order to achieve all the benefits a GMB offers for SEO (both Local & Regional).
There are many factors that Google takes into account when ranking search results. However, 40% of the weight for Local Factors (showing up in the Local Pack Map at the top of searches) are based on factors from a business's GMB:
whether it's been optimized for personalization and reviews.
Not surprisingly, many studies by Google and others point to how over 50% of consumers searching for a company on their phone, visit that business within a day.
The best chance for a company's listing to come up at the top of local searches is to fill in all the nooks and crannies of the GMB, and to garner as many positive reviews from Google users as possible using the GMB provided Short URL.
Comprehensive, Up-To-Date, Accurate Information
As Google My Business has many different parts, it's best to start with the Core Business Information:
Name
Address
Phone
Website & Appointment URL's
Description
Service Category
Product(s)
Attribute(s)
Google looks for authoritative consistency, meaning that the information input for the GMB should match exactly to that of other online directories, as well as that which Google's indexed within the company's own website.
Information inconsistencies between the business website and the GMB can negatively affect a company's local SEO and ranking in search results.
As well, the same inconsistencies between the website, GMB, and other external directories (such as Yelp, Facebook Business Pages, etc) can negatively affect Local SEO search ranking.
When looking for improved Local SEO, consider using local phone numbers instead of toll-free national numbers.
Using Proper Category Keywords & Attributes
As of 2019, Google offers nearly 4,000 different business categories from which to choose. A business can choose one primary category, and up to 9 additional categories for a total of 10 categories.
Always be sure to select the correct classification as incorrect classifications can hurt a listing, or even cause it to be delisted and removed. Following Google's Guidelines for GMB is imperative to avoid removal or deactivation.
When completing the GMB's additional categories, description, and attributes it's important to utilize some white hat keyword SEO strategy to gain the best footing and potential for higher local ranking results.
Always avoid using black hat tricks like keyword stuffing (may result in being banned from Google).

Instead be accurate, specific, and thorough; while avoiding nondescript or vague.
Be sure to take advantage of offered attributes such as Menu, Reservations, Online Ordering, and other options Google provides. Businesses with comprehensive attributes are going to gain more advantage and traffic than those businesses failing to complete all the possible and necessary attributes.
For example: does the business offer Vegan alternatives? Is it family-friendly? Is there outdoor seating?
Fully developed attributes help inform and provide understanding, leading to a better overall review once a customer does come to visit or do business with the company.
GMB Visual Personalization
Personalizing a company's GMB with branded collateral, logo, photos, and more can help to not only improve the look and feel of a GMB card, but it can also keep users engaged and interested in the company and all it has to offer.
Always go through and complete the bare minimum of adding the business logo, a cover photo (ideally make sure it portrays the company accurately; a picture is worth 1,000 words), and at least two to three additional photos. These photos can range from:
Interior photos
Exterior photos
Product photos
Service in-action photos
Team photos
Food/Drink photos
Common Area photos
Google encourages the use of photos and videos to personalize the company's GMB. As well, studies show that listings with photos are thought to be twice as likely to be considered reputable and get over one third more clicks!
Garner & Respond To Positive Reviews
Because Google basically owns the search market, it's imperative to make sure to get as many positive reviews on Google as possible. Google puts heavy emphasis in search results on businesses with numerous positive reviews.
For a business to show up at the top of local searches, they should ideally have a large number of positive customers reviews from Google users detailing their experiences with 4 or 5 star reviews.
As well, actively responding to Google Reviews helps, and may provide more weight to GMB profiles where all reviews have been responded to. However, almost more importantly, studies show that nearly 90% of customers read reviews, and show that responding to reviews can build trust and positively influence customers whether the review is good or bad.
The GMB Wrap-up
Optimizing a company's Google My Business (GMB) card is important in today's crowded online world. While a GMB card can provide basic information, an optimized GMB card can help a company gain more market share and leads, resulting in higher revenues and profits. Any company concerned with improving local search results should start by making sure their GMB card is complete and optimized.
An additional resource for optimizing Google My Business cards:
*https://localmarketinginstitute.com/google-my-business-checklist/