Quick Tidbits
Mobile Internet Usage Outpaces Desktop Usage
Published April 4, 2018
According to industry stats, mobile overtook desktop in 2016 with 51.3% of all users surfing the net on a mobile device or tablet, versus only 48.7% on desktop, and falling.
If your website is not mobile-friendly, then you're missing out on over 50% of potential overall traffic, let alone the 60-80% of searches Google states are now done via mobile devices.
Google claims the following three key statistics clearly show the importance of making sure your website is mobile-friendly and optimized:
Currently more people search on mobile devices than desktop computers.
Users are 5x more likely to leave a website if it's not mobile-friendly or responsive.
More than 50% of mobile users will leave a website if it takes longer than 3 seconds to load.
If those statistics aren't enough to push a business to make sure their website is mobile-friendly and responsive, then the fact that Google began their Mobile-First initiative last November 2016 should be.
Google's Mobile-First initiate states that Google will be putting forth websites that are mobile-friendly or responsive before similar websites that are not responsive or mobile-friendly.
Keep in mind that while having a mobile-only site in addition to a regular desktop site might get you by for now as a "band-aid" measure. However, Google clearly states that they want to see equivalent content for both mobile and desktop pages.
This is best handled with one responsive website that adapts to mobile, desktop, tablets, or any device today.
The issue with having two separate sites, one for mobile, and one for desktop is not only the duplicitous work involved in keeping both sites up to date, but more often than not, the mobile-site ends up being a dumbed down version of the main website and does not contain all the same content and features as the desktop.
In addition, by having two different websites with similar content, (albeit currently Google will not penalize you for having a mobile version and a desktop version) as Google eventually imposes a responsive web requirement, you'll eventually be viewed as having duplicate content which is bad for SEO and can hurt a website's ranking in search results.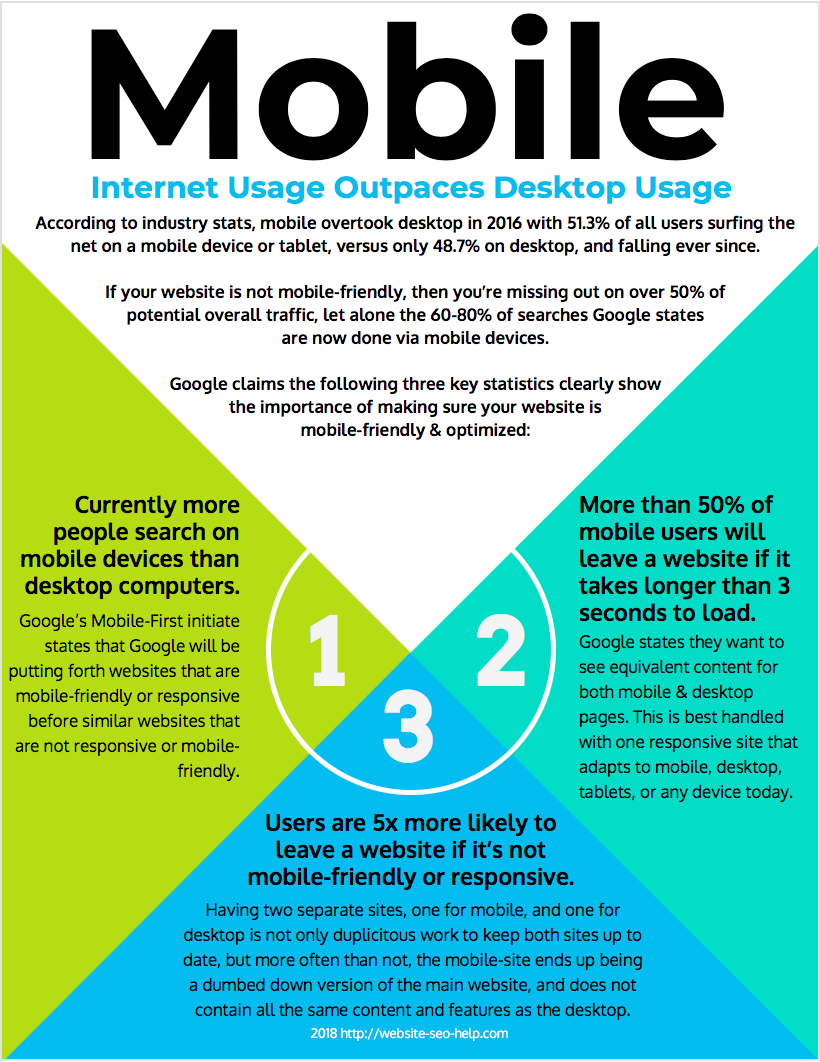 Follow Us
We Accept Credit, Checks & PayPal

Recommended Web Technologies
Recommended Integrated Solutions