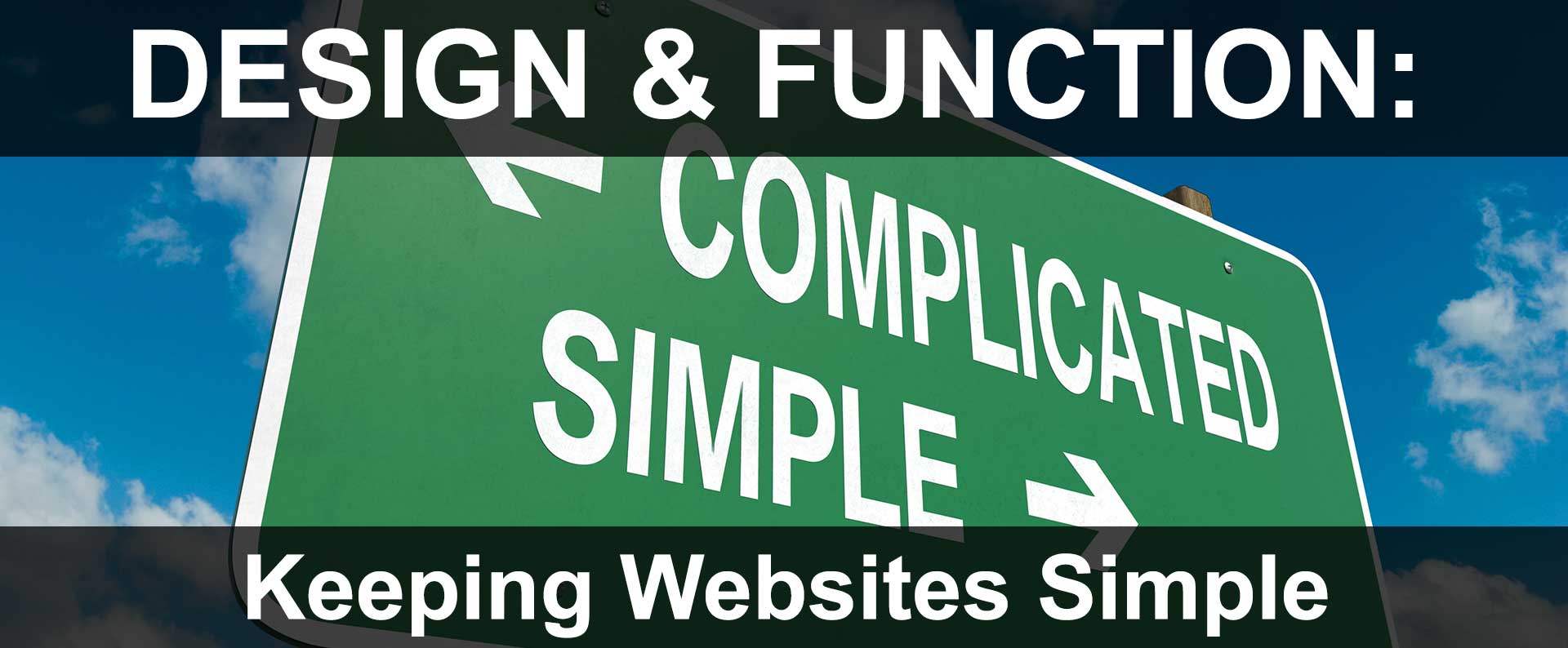 Keeping Websites Simple
When It Comes To Design & Function, Simple Is Better
Revised October 16, 2018
Originally Published July 31, 2008
Whether a business designs its website in-house, or hires a firm to design and maintain the website application; it's important to understand one simple rule regarding website function, usability, and design:
"Unless a website is simple and easy to use, it WILL lose traffic and customers."
When studying enterprise-level websites such as Amazon, Google, or any other Fortune 500 website; the main theme resonating throughout all successful websites is an overall simple and straight-forward navigation and layout.
While many of the largest sites on the internet have literally hundreds, and often thousands, of website pages filled with information; when built properly, finding specific information is usually easy and straightforward.
Successful websites provide visitors with:

An obvious design with consistent and easy to understand navigation.
The eye is drawn to the appropriate content, product images, or information instead of flashy or distracting buttons or animated images.
Every image and word used within a website page is relevant and has purpose.
When it comes to design and layout of a website, the following are some basic principles to keep in mind when planning a company's website:
Above all else, a website must be functional & mobile-friendly (responsive).
A website can have great form; a pretty piece of art with great color, feel, etc. However, if the site is not responsive to any screen size, or if visitors can't figure out how to use or navigate the site, then the site will loose visitors and customers.
Make the site responsive, regardless of platform.
All functional portions of the site must be obvious as to how to proceed to the desired outcome.
Navigation should be clear & concise, adhere to the '3-click' standard, and easily recognizable without intensive search.
Visitors need to be able to find information quickly and in an intuitive fashion.
Website navigation should remain stationary and not jump around, but instead remain consistent from page to page, or section to section.
Categories and major sections of the website should be clearly definable.
As a standard, if any information is buried more than 3-clicks deep, it is considered too difficult to find.
Graphics should be easy on the eyes, clean, crisp, and optimized for quick and responsive loading on any browser platform or device.
To avoid loss of visitors, graphics must be responsive, quick loading and used correctly.
Graphics can help bring understanding and dimension to products and services.
Every graphic must have an easily understandable purpose, otherwise it just becomes clutter and a distraction to the visitor.
If a graphic does not have a clear and intended purpose, eliminate it.
Content and overall website structure should be well-thought out, with easy to understand directions for proceeding.
Website content should utilize page titles and paragraph headers properly to help the visitor identify key points & information quickly, without confusion.
There should be clear CTA's (Calls To Action) directing the user how to move forward and proceed.
All content should be kept fresh, optimized, and written for visitors; yet taking into account the need for parsing by machines to achieve optimal search engine ranking.
Write website content descriptively, and with purpose.
Make sure the information flows in a sensible format easily understood by anyone.
Nothing should distract a visitor's focus from the page content area.
Every page should focus attention to the center content (where the information, products, or services the user came for, should be displayed).
Flashy navigation, animated logos, or any other images irrelevant to the information, product, or service should be eliminated.
Replace anything that does not compliment the intended content with simple, purposeful, complimentary images.
Whether beginning a new site, or revamping an old website, keeping things simple, makes for a better customer experience; ultimately a successful marketing investment.
Newsletter Archive Topics
Newsletter Article Ideas?
We want to hear about it! Our newsletter is geared towards you so email your article ideas or questions to news@ad-sol.com.
Newsletter Subscription Status
Follow Us
We Accept Credit, Checks & PayPal

Recommended Web Technologies
Recommended Integrated Solutions