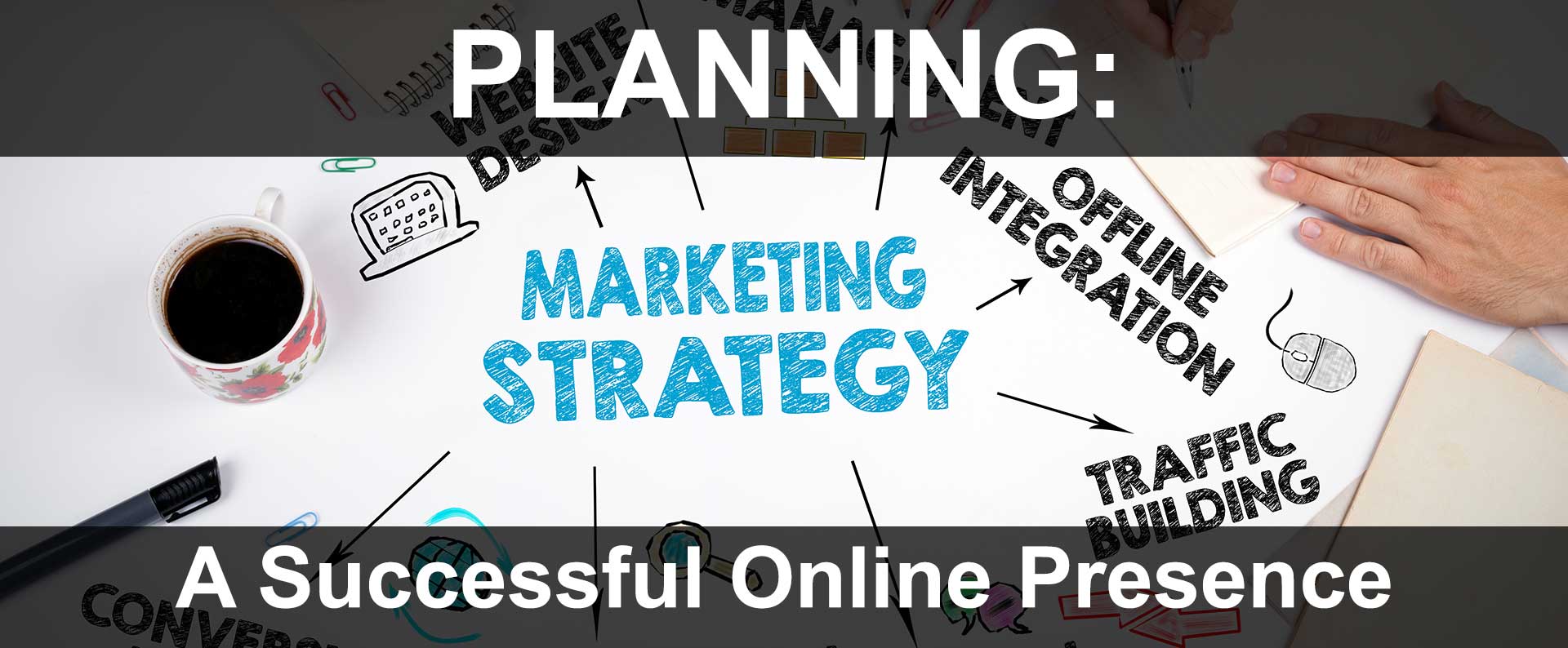 Planning A Successful Online Presence
Developing An Effective Web Presence & Ad Campaign Strategy
Revised April 12, 2017
Originally Published April 23, 2009
Regardless of whether a company has an existing online web & marketing presence, or they're developing a website presence for the first-time, an important first step in success online, is to develop an effective web presence and marketing campaign strategy.
Having a strategy of what a business hopes to accomplish online, will effectively create goals and a road-map of how to achieve the desired end-result.
With proper strategy outline and implementation, a company's online ad campaigns, and web presence can achieve success and profitability; in most cases a company's online presence is its most valuable tool in generating business, leads and assisting the company's clients.
Getting Started
Begin developing an online presence and campaign strategy, by completing some generic online research and customer surveys. Because the research is so important, a majority of time developing a web presence strategy should be spent in gathering research and consumer input.
While the initial research will be generic, it will become more specific and detailed as new information becomes available. Two of the most important aspects of the initial research should be centered on what competitors are doing online, in addition to what customers want and need.
Searching the internet and viewing competitor sites, (as well as unrelated industry websites), is important in learning what website technologies, medias, and strategies are available; as well, which of those technologies may be more geared towards the company's desired industry than others.
By viewing various industries, one can learn what works, what technologies and medias make it difficult, as well as gain a sense of what overall online marketing strategies a company may want to pursue.
Asking the Important Questions
After gathering a bit of generic research and knowing what technologies and medias are available today, the next step is to develop detailed questions that will help gain more specific insight.
A successful online strategy and advertising planning session will ask the following questions to determine the needs for a particular company's campaign:
What is the budget for initial research, design, development, and monthly ongoing maintenance and marketing?



The budget available for the development of a website and associated online campaign greatly affect how one can address the following questions to develop a strategy and campaign; including if the company may have to utilize free-template website solutions, or can afford some customized and tailored website specific to the company requirements.


Some examples of what to expect for budgetary recommendations, based on needs, are as follows:



If the business is not worried about company branding, and a professionally laid-out website optimized for search engines, one can probably get away with a free template website through most any hosting company for the do-it-yourselfer. Hosting can be as inexpensive as $5-10/month or less depending.


If the business is looking to develop a branded, informational website with no e-commerce capabilities, one should expect to devote an initial development budget with a minimum of $500-750 available, up to $1-2K; depending upon how much graphic and layout time the company wants dedicated to making the site functional and professional looking.



For on-going updates or upgrades throughout the following years, one should expect to spend around $200-500 per year in service or maintenance, depending upon the services the website offers.


In addition to annual updates and upgrades, if a company wants to continuously market and build a company's online presence to generate new leads, they should budget about $100-200+ minimum, per month in online marketing services, SEM, SMM, etc.



For a very simple e-commerce website, one should expect to spend a minimum of $1-3K. As functionality of the site increases, so will the associated investment of time, money and resources. For example, a complete website that functions as a Customer Records Manager (CRM) for a company and its employees can easily run $5K+.



For e-commerce and more complex database sites, on-going updates or upgrades throughout the following years, one should expect to spend around $1000+ per year in service or maintenance, depending upon the services the website offers.


In addition to annual updates and upgrades, if the business wants to continuously market and build a company's online e-commerce presence to generate new sales, they should budget about $200-500 minimum, per month in online marketing services. For some industries the average monthly marketing budget runs upwards of $1-2K+ per month with ROI of 1000+% or more.



In addition, the following should also be considered:

How much should one plan for hosting of the site, what additional securities are needed?
Will the company utilize free social medias, paid advertising, both?
Who will maintain the website and keep the website content up-to-date, an internal employee, or a hired 3rd party?
Who will monitor and analyze the on-going marketing efforts and its effectiveness?
Are there other services the business needs to budget for? (e.g. email, SSL, etc)



Who's the target market?

This isn't always as easy as it might sound. Many might think that it will be the same target market as the existing brick and mortar business. However, what many have found is that with the internet, comes a whole new target market and potential new customers; especially with today's social media such as Facebook, Twitter, Google+, Alignable & LinkedIN. Knowing the target market will help the business, and any web design firm create a website appealing to this market.


What function(s) will the online presence play for visitors and customers?

Decide what exact function & role a website, or other online presence, will provide for visitors and customers:



Will the website or online campaign simply provide information about the company or industry to visitors?


Will customers be able to fill out estimate requests online? Will these estimates be interactive and provide immediate results, or will it send the information to the company, and a representative will respond with an estimate?


Will the site be selling any of the company's products or services to visitors online; offering order tracking; other account related functions online?


Will the company be storing information online for customers to securely access over the internet? If keeping customer information online, will it be accessible and editable by customers via the web or just viewable?


Knowing all the functions that the business will need available online is necessary to keep the campaign flow going smoothly once underway.
If the campaign is large enough, it's often necessary to create a flow diagram of the different online areas envisioned, as well as the associated functions users will be able to perform online.

As well, if the campaign is extremely large, it may be best to look at developing the website strategy in phases. Developing in phases can ease not only the initial up-front investment, but make it easier to see how different strategies will play out, what's working, and what still needs to be addressed or modified.
What function(s) will the online presence play for the company and its employees?

Again, decide what exact function & role a website and online presence is going to play for the company and employees:

Will employees be able to access company documents online, outside the office?


Will the website or presence allow employees to enter sales orders?


Will the site provide secure access to consumer information online for employees? If securely storing customer information online, will it be accessible and editable by employees via the web or just viewable?
As with customer functions, it's important to note all the functions necessary to keep the project flow going smoothly once development of the site begins.

Again, if the project is large enough, it's often necessary to create a flow diagram, and note the potential need for phased development.
What are other companies in similar industries doing for web design, marketing, and their online presence?

It's always important to know what the competition is up to and how they're doing it.
If the competition is selling on the web, then the business should obviously at least consider selling online in order to stay competitive.


If the competition is giving 'how-to' seminars, or allowing online application for loans, or even allowing online estimates for services to potential clients on the web, then again, the business should consider doing something similar to stay competitive.


If competitors are participating in social medias and other forums, then the company should probably as well.
Whatever the industry, do a little research and see what the competition is doing. A great resource to use is Google. With Google, one can literally look up any industry and find out who the major players are, review their sites, and see what needs to be done to stay competitive.
What is the best plan to acquire the necessary target market and get visitors to the website?

The last step before beginning any campaign development & implementation, is to figure out how to reach the target market. This may include implementing multiple options:
The first, and probably most recognized method of acquiring free-online traffic, is the use of search engine optimization (SEO). SEO helps a website get better ranking in any major engines such as Google, Bing, and so on. Making sure that a website is naturally optimized for search engines is extremely important.

However, for a new campaign, it can literally take several weeks or months before the company will begin to see the the new website in any search results; (and that's only if the business has made sure that the site is properly optimized for search engines including ongoing fresh content, and updates.)


The following are some additional methods to assist in receiving free traffic to a web presence or online campaign sooner, if not immediately:



The most effective method today is viral marketing (a type of word of mouth via social media) such as Facebook, Twitter, Google+, Alignable & LinkedIN. These avenues can bring in traffic within minutes of posting on the social media site; pending the posts are relative and catch the users attention.


Direct mail whereby the business sends out letters, postcards, brochures and the like to prospects directing them to the site. Direct mail and print advertising is still VERY much alive and effective in reinforcing other related marketing channels and methods of advertising. Utilizing multiple methods keeps the business fresh in the consumers mind whether online or offline.


Individual emails to targeted prospects which whom the business has permission to market to. It is strongly discouraged to send out mass emails to lists that are purchased off the internet.



First and foremost, often these lists are not legitimate (in that each of the individuals did not give express consent to market to).


In addition, mass email marketing often annoys many people and is thought of as a nuisance and might actually detour some prospective clients from utilizing a company's services.



Use Google to look-up and find web site directories that specialize in similar industries and will list the website as a resource in the directory.


Enclose flyers with billings or mailings to current clients. Too often, companies tend to forget about their current customers after the initial sale; failing to realize the potential upsell and additional services their existing clients might need. Such upsells to current clients have a lower cost to obtain the sale, since the customer has already done business with the company before.



There are also low-cost methods of advertising using a PPC (Pay-per-click) service such as Google's Adwords program, or Facebook Ads.



Most of the programs today allow one to specify a monthly budget and pick and choose which keywords to sponsor; all at very affordable rates! Cost per clicks can run as little as just a few cents per click.


Google has excellent programs that help estimate how many clicks to expect per keyword per month for the budget specified. (These tools can also be used to help pick out good keywords to use for website content as well.)
Putting It All Together
Once the research is completed, it's time to put together the outline and plan. When compiling the plan, it's best to organize it in phases. Rarely would one want to go for the most complex right from the start. Instead, start small & simple, and build up.
For example:
First start with a nice, professional, informational website. Then, market & build as needs dictate, adding in social medias, perhaps e-commerce in one phase; later perhaps the need for video or audio, interactive customer service options in another phase, and so on.
The web offers unlimited possibilities, and can grow as the company's needs grow. The biggest hurdle is to realize that a successful online presence is not built in a day, nor even a year. Developing a successful online presence is a very strategic, and orderly process; one that must be completed piece-by-piece over time.
Newsletter Archive Topics
Newsletter Article Ideas?
We want to hear about it! Our newsletter is geared towards you so email your article ideas or questions to news@ad-sol.com.
Newsletter Subscription Status
Follow Us
We Accept Credit, Checks & PayPal

Recommended Web Technologies
Recommended Integrated Solutions