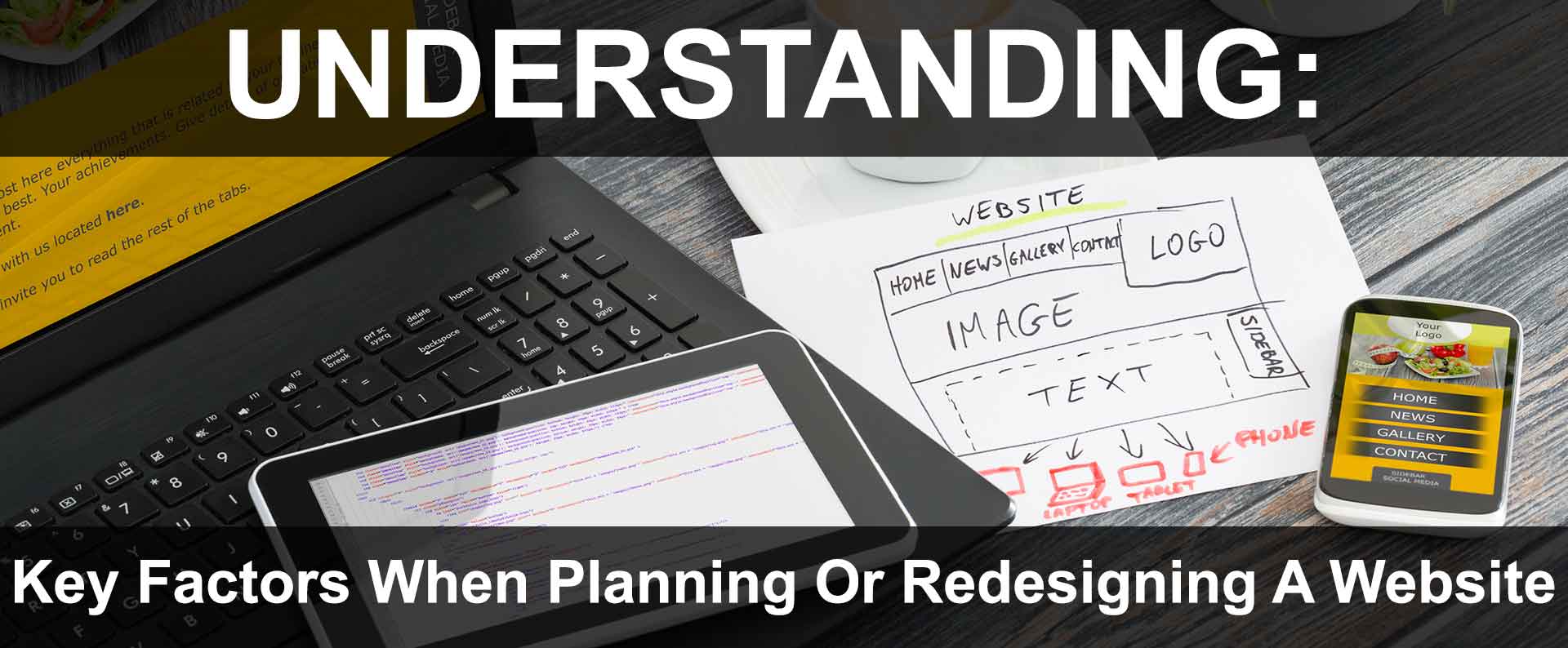 Key Web Design & Development Tips
Important Factors When Planning Or Redesigning A Website
Revised August 6, 2020
Originally Published June 17, 2010
Whether creating a new website, redesigning, or updating an existing site or web application (webapp); a different set of tactics must be implemented versus those used for traditional offline print mediums such as a newspapers, books, or magazines.
There are numerous factors to be taken into consideration to make a site or webapp as effective as possible.
For this reason, it is important to note some general tips to adhere when planning a new web presence, redesigning, or updating an existing site or webapp.
General Design Tips
Make sure the site's design & layout is mobile-friendly and appears consistent and accurate on all devices (smartphones, tablets, desktops, etc.) for ease of use and consumer confidence.


Use one responsive site to avoid requiring users to visit a different website, or various navigation methods depending upon the device they are using.


Forget page counters, as they look messy and amateur. The website's hosting account statistics, in addition to Google Analytics, will be able to reveal a great deal more insight and usable data about website traffic and consumer behavior than a hit counter.


Flashing, scrolling or blinking text is often too distracting, and again looks amateur. If there is a need to draw attention, it can done with a professional graphic image, or using bold-stylized text.


Keep the website look and feel consistent throughout all the web pages; this is a main key to making a website look professional.


Keep the site's navigation consistent and in the same place. Visitors are often frustrated and leave websites where the navigation menu constantly moves and changes.


Don't use irregular navigation. For the most part, people are used to (and expect) top, right or left hand navigation menus. Non-standard navigation setups can cause confusion and cause the visitor to leave the website when they can't easily find where to go next.


Attempt to keep website pages around 100k maximum in size. This keeps the website loading fast regardless of browser (Safari, Firefox, Chrome, IE, etc), connection speed (high-speed cable, WiFi, cellular), or computer platform (e.g. smart phone, laptop, tablet, etc).


Don't use busy backgrounds. The goal is to focus the visitor's attention on the content (business information, services, products, etc), not the background of the website.


Avoid using ALL CAPS as this too can be distracting. As well, in the online world this is considered "yelling" at the reader.


Avoid using italics or bolding on anything more than a few words at a time to draw attention. Anything more is distracting, and the italic or bold loses it effectiveness.


Keep the website color scheme simple. Too many bold colors, or too much design can be distracting or offensive.


When using images as buttons or links, make sure they look like they should be a link or button. Make links obvious to navigate the site.
Website Function Tips
Flash should be avoided when possible as it is not 100% cross platform compatible, and is no longer mainstream. As well, many users have disabled Flash plug-ins, not yet installed, or their browser may no longer support Flash.


Many of the same features found in Flash and similar technologies can be found by utilizing HTML5; which is cross-browser compatible on all platforms including iPhone and iPads. As many may know, Flash does not work on iPhone, iPads, etc.


Keep away from frame-sets. Frame-sets can often cause many issues with browsers and search engines. Overall, frame-sets are not friendly for search engines, or mobile-browsers.


Keep away from using background music on a website page. Not only are music files often large and take time to download, but no one likes going to a website and suddenly being startled by music playing unexpectedly.


Avoid using pop-up windows. Lots of browsers have pop-ups disabled due to spam pop-ups. Often visitors find pop-ups annoying.


Avoid automatically resizing visitors browser windows. Instead, either make the website fluid and respond automatically to the visitor's window size.


Make sure the website has custom 404 error pages setup should someone encounter an error on the website; this tells a user the content is no longer available, and can direct them onward to find the desired information they came for.


Make sure the website can be viewed on all browsers, including smart phones and tablet-computer browsers; such as iPhone and Android phones.


Avoid chat rooms and message boards UNLESS the website has a very large base of visitors. Nothing looks worse than an empty chat room or bulletin board.


Avoid javascript heavy websites. Javascript is okay to use sparingly as absolutely needed; but in general, javascript should be avoided as it is not always 100% cross browser compatible, and many people have javascript turned off. Some browsers on smartphones may not display javascript. If Javascript must be used, make sure the site offers alternative content for non-javascript enabled browsers and devices.
Search Engine Ranking & Optimization Tips
Avoid using tricks (often referred to as black-hat) to gain better search engine ranking.


Search engines are constantly changing and learning to recognize black-hat tricks. Some consequences might just be a lower ranking while other search engines have been known to blacklist and ban sites for good!


Using one responsive website (instead of a separate desktop version and separate mobile version) will assure Google, and other search engines to index all pertinent content, not just the mobile content as Google is currently doing.


Natural search engine optimization will give a website the best long-term effect for the best possible ranking in search results.


If there is a need for immediate traffic, consider a campaign similar to Google AdWords (now Google Ads) or SMM (social media marketing) such as Facebook Ads.


If Local SEO is a major factor, make sure the website is accurately listed in all major directories. Google uses such directories to help establish authority on business locations and contact information; the more accurate the information across all directories, the higher the potential ranking in search results.


Make sure to create and utilize a Google My Business card (GMB) for best SEO; both local and overall.


Avoid redirecting visitors from one domain to another unless absolutely necessary. This is bad for search engine optimization as well as confusing for some visitors who might not understand what is going on. If a redirect must be done, a 301 Redirect is the best SEO method.


Page titles should be short and concise, yet make sense to a reader. Preferably the titles should utilize important keywords or phrases, while using semantic H tags (such as H1, H2, H3, etc).


Avoid "under construction" or "coming soon" pages. Instead, put up a simple page that at least describes the service coming soon, and perhaps allows users to register for more information. A blank under construction page not only looks bad to visitors, but can actually hurt search engine ranking.


Create a site-map that works as a general directory to all the website's pages. If the website uses a dynamic CMS type system, this can probably be easily accomplished with a couple hours programming; if the CMS does not already create a sitemap automatically.


Be sure to use the proper "ALT" and "TITLE" tags for images and links. These tags are important for search engines and optimization; they tell the search engines what the image is about, and what to expect on the other end of the link.


Keep website links and navigation, simple stylized text as much as possible for good search optimization.
Newsletter Archive Topics
Newsletter Article Ideas?
We want to hear about it! Our newsletter is geared towards you so email your article ideas or questions to news@ad-sol.com.
Newsletter Subscription Status
Follow Us
We Accept Credit, Checks & PayPal

Recommended Web Technologies
Recommended Integrated Solutions